Apple Reportedly Hires Audio Pioneer Tomlinson Holman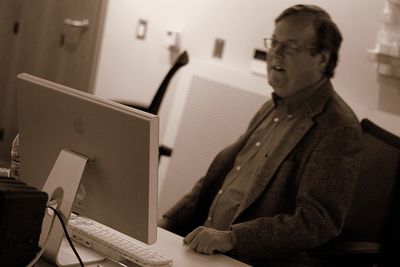 Tomlinson Holman working at a Mac in 2007 (Source: Flickr)
As
noted by GigaOM
, tech pundit Leo Laporte today
tweeted
that he has heard "on good authority" that Apple has hired audio pioneer Tomlinson Holman to head up the company's audio projects.
Apple has reportedly hired Tomlinson Holman as its new audio chief, according to a tweet by Leo Laporte Wednesday morning. Laporte said he had it "on good authority" that Holman "is joining Apple to run audio." Holman is the brain behind Lucasfilm's THX sound, and the world's first 10.2 surround sound system. Apple had yet to respond to a request for confirmation as of this writing.
Holman spent fifteen years at Lucasfilm, working to develop the THX sound system and related technologies. He has been serving as professor in the School of Cinematic Arts at the University of Southern California while also pursuing development of advanced surround-sound technologies such as "10.2" for increased spatial sound perception through his own company. The technology focuses on creating a heightened level of immersion by utilizing an array of seven front speaker channels, including a pair of "height" channels installed at a 45-degree angle above the listening area.
Holman received an Academy Award for Technical Achievement in 2001 for his contributions to the development of cinema sound systems.