iPhone 7s Said to Keep Aluminum Design as iPhone 8 Gets Glass With Stainless Steel Frame
Apple's next-generation smartphone lineup this year will include a 4.7-inch iPhone with aluminum casing, 5.5-inch iPhone of an unspecified material, and all-new 5.8-inch iPhone with glass casing reinforced by a stainless steel frame, according to Taiwanese website DigiTimes, which keeps tabs on Apple's supply chain.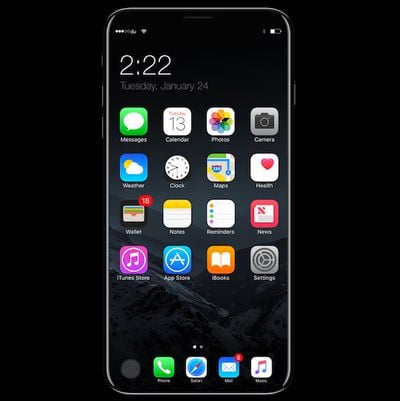 The report, citing "sources from the upstream supply chain," claims the 5.8-inch model is expected to adopt an OLED display, and for that reason the smartphone is estimated to
cost upwards of $1,000
.
DisplayMate Technologies outlined the several advantages of OLED display technology when it tested Samsung's Galaxy S7 last year. Namely, the displays are typically brighter and more power efficient than LCDs with better color accuracy, faster response times, wider viewing angles, and improved image sharpness.
The trio of unreleased smartphones have commonly been referred to as the iPhone 7s, iPhone 7s Plus, and iPhone 8, with the high-end model sometimes called the "iPhone X" instead in line with the smartphone's tenth anniversary this year. The smartphones are expected to launch in September per usual.
While it is widely believed that Apple will release three new iPhone models this year, rumors surrounding the lineup have so far lacked consensus. Apple analyst Ming-Chi Kuo of KGI Securities and Japanese website Nikkei, for example, have both said that all three models will feature glass casing.
Japanese website Mac Otakara, however, said the 4.7-inch and 5.5-inch models will retain an aluminum design like the iPhone 7 and iPhone 7 Plus, with only internal changes, including the addition of a faster A11 chip. Today's report echoes that at least the 4.7-inch model would indeed have an aluminum design.
The rumors suggest two possible scenarios:
Scenario A: Apple releases a completely overhauled glass-backed iPhone with an edge-to-edge OLED display and wireless charging at the high end of its 2017 smartphone lineup, while making only incremental upgrades to its traditional 4.7-inch and 5.5-inch iPhones with aluminum designs and LCD displays.
Scenario B: Apple adds glass casing and wireless charging to all three iPhones, which could make an edge-to-edge OLED display and longer battery life the unique selling points of the high-end model. This would mark the end of the iPhone's aluminum design that has remained largely the same since the iPhone 6 in 2014.
Other rumored features for this year's iPhone lineup, some of which may be exclusive to the high-end model, include the removal of the Home button, iris or facial recognition, 3D camera features, improved IP68-rated water resistance, increased storage space, and new Taptic Engine and 3D Touch modules.
Apple is expected to begin production of the new iPhones next quarter, at which point rumors should start to become clearer.