iPhone 8 Production May Start Earlier Than Usual
Apple may start production of the iPhone 8 earlier than expected, according to information gathered by BlueFin Research Partners and shared by Barron's Tech Trader Daily.
There is "some indication" from the supply chain that Apple will ramp up production of the iPhone 8 starting in June, but that doesn't necessarily point towards an earlier non-September release date.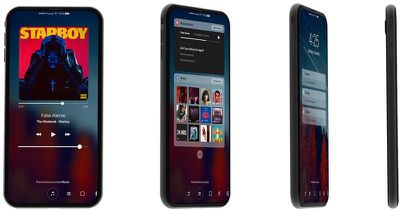 The most intriguing data points that we have uncovered suggests that AAPL is ramping the next generation iPhones earlier than historical norms, although we have no indication that there has been any change in release plans for the iPhone 8/X.[...]

Interestingly, our present reads suggest a 300% increase in iPhone 8/X builds in the June quarter, now sitting at 9M. As a result, overall June quarter builds have increased from 45M to 48M, with the sharp increase in iPhone 8 offset somewhat by modest declines in legacy models.
Given the radical design changes expected in the iPhone 8, it is unsurprising that the company may be planning to ramp up production earlier than normal, if the information BlueFin Research has shared is accurate. An earlier production date will give Apple time to improve yield rates and work out manufacturing issues, and could potentially lead to better supply when the iPhone 8 launches in September.
Rumors suggest the iPhone 8 will include an edge-to-edge OLED display, perhaps with curved edges, with a glass backing, a deviation from the aluminum body used since the iPhone 4s. It's said to look like a single sheet of glass, with a Touch ID Home button built directly into the display.
Wireless charging in some form is expected to be included in the device, but it is not yet clear if it will be Apple Watch-style inductive charging or a longer-range over-the-air charging solution. Other rumored features include a faster, more efficient A11 processor, advanced biometrics like facial recognition or iris scanning, a new Taptic engine and 3D Touch advancements, and camera improvements.
BlueFin Research also says Apple has adjusted iPhone 7, iPhone 7 Plus, and iPhone SE production downward as it begins preparing for the launch of the iPhone 8.