Apple Said to Debut Three Glass-Backed iPhone 8 Models, Including New 5-Inch Size, in 2017
Apple is working on three new iPhone 8 models to be released in 2017, all of which will include glass-backed bodies, reports Japanese news site Nikkei. Previous rumors have also pointed towards three iPhone 8 models, but past information suggested that Apple would release one "premium" glass-backed model with an OLED display and two "standard" aluminum models rather than three models with a glass body.
Citing a supply chain source, Nikkei says Apple will release the three iPhones in the following sizes: 5.5 inches, 5 inches, and 4.7 inches. The site still believes one premium model with a curved edge-to-edge OLED display will be sold alongside two models that have standard LCD displays.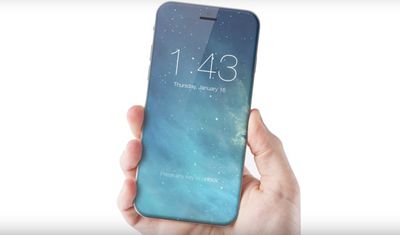 "Apple has tentatively decided that all the 5.5-inch, 5-inch and 4.7-inch models will have glass backs, departing from metal casings adopted by current iPhones, and Biel and Lens are likely to be providing all the glass backs for the new iPhones next year," the source said.
All three iPhone 8 models will use glass supplied by Biel Crystal Manufactory and Lens Technology in China for both the front and back, which will be held together with an aluminum frame. Foxconn has been working on glass backs, but Biel is said to have the technological edge.
Because it is early in the development cycle, Nikkei warns that Apple's plans could still change and it could decide to scrap plans to offer three devices. In 2016, early iPhone 7 rumors also pointed towards three devices, including one 4.7-inch iPhone and two 5.5-inch models, one with dual cameras and one with a single camera. The single camera model was reportedly scrapped six months ahead of the iPhone 7's launch.
Rumors suggest Apple is planning on introducing significant design changes in the iPhone set to be released in 2017. Along with an edge-to-edge display that includes built-in Touch ID and other sensors, the device is said to include no Home button, advanced biometric features, an improved Taptic engine, and wireless charging.