Apple 'Pressing Ahead' Into Prototype Testing for Echo-Like Smart Home Device Powered by Siri
Apple is said to be "stepping up plans" for its connected smart home device powered by Siri, which would rival the technology that Amazon has made popular in its Alexa-enabled Echo speaker system (via Bloomberg). After two years of research and development, the Apple device is said to be in prototype testing, but because Apple hasn't officially finalized any plans it "could still scrap the project."
Similar to Echo, the Siri device is said to be able to control smart home accessories like lights, locks, and curtains all through voice activation, and would most notably be the first new piece of Apple hardware introduced since the Apple Watch, and the iPad before that. To compete with Amazon -- and Google's own similar device called "Google Home" -- Apple will introduce "more advanced microphone and speaker technology," according to people close to the project. This could potentially include an ecosystem-wide upgrade to Siri's current functionality.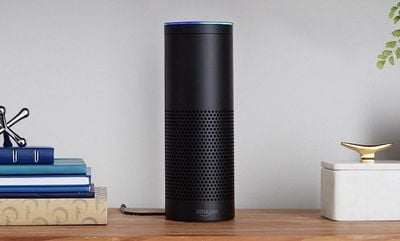 Beyond the home device, Apple is researching new ways to improve Siri on iPhones and iPads, two people said. With an initiative code-named "Invisible Hand," Apple hopes to give users the ability to fully control their devices through a Siri command system within three years, one of the people added. Currently, the voice assistant is able to respond to commands within its application, but Apple's goal is for Siri to be able to control the entire system without having to open an app or reactivate Siri.

For example, a user would be able to ask their iPhone to open a web page and then share it with a friend without the need to ever launch the Siri interface. Other examples from Apple's current research include being able to print a PDF by speaking "print" while reading it or saying "help" in order for the system to help the user navigate a particular task or application. Apple has also been researching opening this ability to third-party apps, the person said.
A few prototypes in testing are said to include technology related to facial recognition, potentially fueled by Apple's acquisition of Faceshift and Emotient, "which may help the device act based on who is in a room or a person's emotional state." Otherwise, the device will be able to perform all of the Siri actions expected of the personal assistant, including responding to text messages, playing music, searching the internet, and more. Apple Maps integration is a possibility, which Apple is considering so Siri could alert you exactly when to leave the house for an appointment.
Before it moved to a standalone speaker unit, Apple considered introducing Siri into a voice-activated feature on the new Apple TV, but the company decided on a more reliable button addition to the Apple TV remote over shouting commands across a room to activate Siri. In its original testing in 2014, Apple crafted a small and a large version of the Siri speaker, said to be like the Amazon Echo and Amazon Echo Dot, "but those early efforts may not translate into a final product."
The prototype phase has advanced to the point of Apple engineers testing the device in their own homes, according to the individuals with knowledge of the project. As Bloomberg pointed out, while this is not an exact measure of when the Siri speaker might launch, Apple CEO Tim Cook was known to test out the original iPad at his home "for roughly six months before its introduction." Apple employees also tested out the fourth-generation Apple TV about a year before its launch in 2015.
Ultimately, the Siri speaker is described as a way for Apple to "augment the iPhone," and drive sales for the company's devices following a year where it faced dwindling returns for its iPhone line. Its most recent device launches for the iPhone 7, iPhone 7 Plus, and Apple Watch Series 2 have all faced the expected initial shortages most Apple products encounter in their first few weeks on the market, but Apple has chosen not to reveal first weekend sales numbers for the iPhone 7 because it feels the results are "no longer a representative metric" due to demand outweighing supply.