Apple has announced that its first retail store in Mexico, located at the Centro Santa Fe shopping mall in Mexico City, will open on Saturday, September 24 at 11:00 a.m. local time. Apple's sixth retail store in Hong Kong, located at the apm shopping mall, also opens on Thursday, September 22 at 11:00 a.m. local time.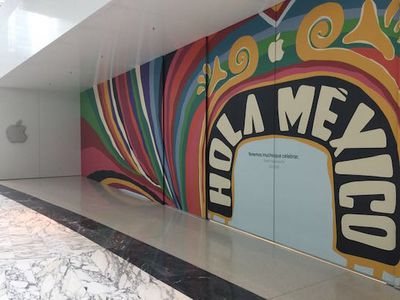 Apple is celebrating the opening of its first Mexican store with a colorful Hola México banner and a
matching construction barrier
at Via Santa Fe, the upscale wing of Centro Santa Fe, the largest shopping mall in Latin America. The store, first
rumored in January
, will be located on the upper level of the shopping mall.
Apple's sixth retail store in Hong Kong will be located at 418 Kwun Tong Road in the Kwun Tong district. The store will be open seven days a week between 11 a.m. local time and 11:00 p.m. local time. Apple's other five stores in Hong Kong are located at Canton Road, Causeway Bay, Festival Walk, IFC Mall, and New Town Plaza.
September is shaping up to be a busy month for Apple retail, starting with two U.S. stores that reopened on September 2, another four locations reopening on September 10, and three more to follow on September 16.