In preparation for the opening of Apple Santa Fe, the company has begun decorating the location's construction site with new, colorful artwork that lets passersby know "we have much to celebrate." The store will be located in Mexico City's Centro Santa Fe, the largest shopping mall in Latin America, on the second floor of the mall's upscale wing of shops.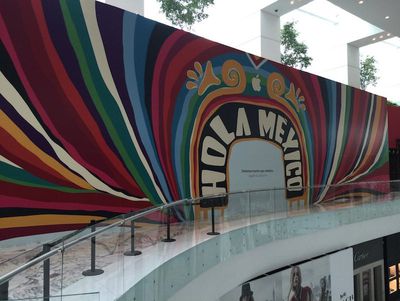 Up until yesterday, the Santa Fe location was covered with a plain black barrier. Other Apple locations have had construction barricades with thematic artwork related to their respective countries, including one in Brussels, Belgium and another in Hangzhou, China that showcased artwork by calligrapher Wang Dongling.
(Thanks, Daniel!)
Update: Apple has added the Santa Fe location to its website, and listed it as "coming soon."