Bragi Unveils Wireless 'Headphone' Earbuds Ahead of Apple Event
Wireless audio company Bragi has today announced a new pair of Bluetooth earbuds simply called the "Headphone". Based on the firm's original crowdfunded Dash earpieces, the Headphone buds boast the same overall design, but lose some features in favor of a more affordable price tag.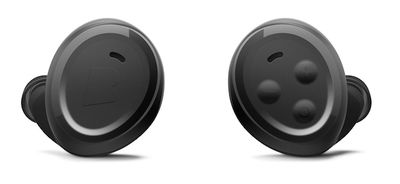 According to Bragi, the main physical difference is the Headphone's three physical buttons, which replace the touch controls found on the Dash for controlling playback, audio transparency, volume, and taking calls.
The activity tracking features native to the $300 Dash buds are also missing in the new earpieces, but their removal shores up battery life on the Headphone, with Bragi promising up to six hours of operation on a single charge, rather than the three hours Dash users will be accustomed to. Bragi also claims the Headphone buds feature a stronger Bluetooth connection than the Dash.
The Bragi Headphone buds are poised to launch in November and will cost $150, with pre-orders starting today at the lower price of $119.
In addition to the new earpieces, Bragi today announced a firmware update to the original Dash buds which the company says improves the accuracy of the devices' heart-rate tracking, while also bolstering the strength of the Bluetooth connection.
With Apple's event just days away, Bragi is unlikely to be the last accessory firm to announce wireless products this week, as the industry shifts gears in anticipation of a new iPhone widely believed to lack a headphone jack.
Apple will provide a live stream of the September 7 keynote on the Apple TV and on iOS and Mac devices through its website. MacRumors will be providing live coverage of the event for those unable to watch, both on MacRumors.com and through the @MacRumorsLive account on Twitter.
Read: What to Expect From Apple's September 7 Event