Tesla has removed the word "autopilot" from its China website after a driver in Beijing who crashed while the mode was active complained that the company had misled them about its capability (via Reuters).
The accident happened on a commuter highway when the car failed to avoid a vehicle parked on the left side and partially in the roadway, damaging both cars but causing no injuries.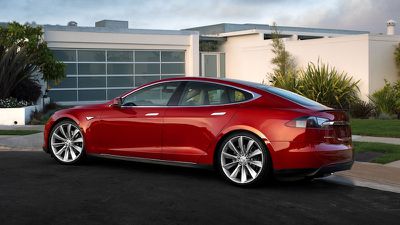 Tesla Model S all-electric five-door, luxury liftback (Image: Tesla Motors)
It is the first incident of its kind in China, but follows a fatal crash in Florida
earlier this year
and highlights a lack of clarity surrounding how automated driving features work.
References to autopilot and the term "zidong jiashi", which also translates as "self-driving", were taken off the company's web page for the Model S sedan by late Sunday, according to a comparison with an archived version of the page. The references have been replaced by a phrase that translates as 'self-assisted driving'.
In an emailed statement to Reuters, a spokeswoman for the company said:

At Tesla we are continuously making improvements, including to translations. We've been in the process of addressing any discrepancies across languages for many weeks. Timing had nothing to do with current events or articles.
In response to the crash, Tesla China staff have reportedly undergone training to re-emphasize that car salespeople must always keep two hands on the wheel when demonstrating the autopilot function.
Other Tesla drivers interviewed by Reuters said China sales staff took their hands off the wheel while demonstrating the function. Under Chinese law, drivers are required to keep two hands on the wheel at all times.
The spokeswoman for Tesla said that the system was not self-driving but merely assistive and that drivers were responsible for always maintaining control of the vehicle. On the Tesla U.S. website, autopilot in the Model S is described as allowing the car "to steer within a lane, change lanes with the simple tap of a turn signal, and manage speed by using active, traffic-aware cruise control".

Digital control of motors, brakes, and steering helps avoid collisions from the front and sides, and prevents the car from wandering off the road. Autopilot also enables your car to scan for a parking space and parallel park on command. And our new Summon feature lets you "call" your car from your phone so it can come greet you at the front door in the morning.
U.S. regulators have yet to issue written regulations for autonomous vehicles, but Apple – heavily rumored to be working on a car project – has already met with California DMV officials regarding self-driving car laws within the state.
Multiple reports indicate that Apple is exploring the functionality with the possibility of including it in a later iteration of its vehicle project, which is said to be overseen by former longtime executive Bob Mansfield, who last served as Senior Vice President of Technologies at the company.
Apple has reportedly recruited hundreds of engineers from the likes of Tesla, Ford, GM, and elsewhere to work on the so-called Apple Car, codenamed "Project Titan" internally, despite CEO Tim Cook's recent refusal to be drawn on the subject. The electric vehicle could be street-ready between 2019 and 2021 according to various reports, with R&D based in Sunnyvale, California.