Apple Met With California DMV to Review Autonomous Vehicle Regulations
Apple senior legal counsel Mike Maletic held an hour-long meeting with the California Department of Motor Vehicles last month to review "autonomous vehicle regulations," according to internal documents obtained by The Guardian. The revelation comes amid widespread rumors that Apple has hired hundreds of employees to develop an electric vehicle over the past several months.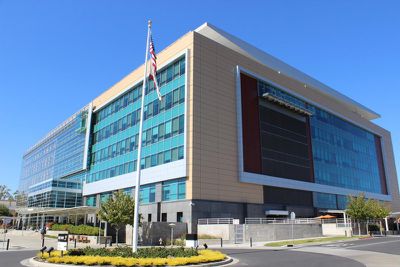 California DMV headquarters in Sacramento
Maletic reportedly met with a trio of DMV executives familiar with self-driving cars, including deputy director Bernard Soriano and chief of strategic planning Stephanie Dougherty, who are co-sponsors of California's autonomous vehicle regulation project. Brian Soublet, the department's deputy director and chief counsel, was also in the meeting, according to the report.
California's DMV is developing regulations for the eventual deployment and public operation of autonomous vehicles. These rules will establish requirements that manufacturers must meet to certify that their driverless vehicles have been successfully tested, meet safety criteria, and are ready for consumers to operate on public roads.
Apple would be required to obtain an Autonomous Vehicle Testing Permit from the California DMV to test autonomous vehicles on public roads, which Volkswagen, Mercedes-Benz, Google, Tesla Motors, Nissan, BMW, Honda and others have already done. Given the Cupertino-based company's culture of secrecy, however, that is an unlikely scenario.
If Apple does seek a testing permit for its Project Titan self-driving car, it will have to sacrifice much of its legendary preference for secrecy. Manufacturers applying for a permit have to detail the make, model and vehicle identification number (VIN) of cars they want to test, share details of autonomous features and capabilities, and identify test drivers by name.
If rumors about Apple testing an electric vehicle are true, it is more likely that the iPhone maker will use a private testing facility such as GoMentum Station, a 2,100-acre former naval base in the San Francisco Bay Area run by the Contra Costa Transportation Authority. Apple could also use its own property to test vehicles with complete privacy, something it may already be doing.
The report suggests the so-called "Apple Car" could be "almost ready for public view":
According to documents obtained by the Guardian, Apple has appointed an engineering program manager (EPM) to Project Titan. EPMs generally arrive on an Apple project once a product is ready to leave the lab, and coordinate the work of teams of hardware and software engineers.
Apple's rumored "Project Titan" electric vehicle research and development could be based at a top-secret office complex in Sunnyvale codenamed SG05, the report corroborates. Bloomberg reported in February that Apple aims to begin electric car production as early as 2020, but the company's roadmap is not entirely clear due to the highly secretive nature of the project.
Update: Representatives from the California DMV that spoke to Re/code have confirmed that Apple did meet with the DMV to discuss California's autonomous vehicle regulations.
"The meeting with representatives from Apple focused on a discussion of the autonomous vehicle testing regulations that went into effect in September of 2014," DMV spokesman Armando Botello said in an emailed statement.