Fully Functional iPhone 7 Lightning EarPods Shown Off in New Video
Over the past few weeks, images have claimed to show Apple's upcoming Lightning-enabled EarPods, but most were found to be fake as the design language of the headphones largely deviated from Apple's usual aesthetic, especially in regards to not having a thin, rectangular Lightning plug. Today, MobileFun posted a video of a working pair of Lightning EarPods, and the overall look of the accessory appears more in line with Apple's design than any of the previous leaks.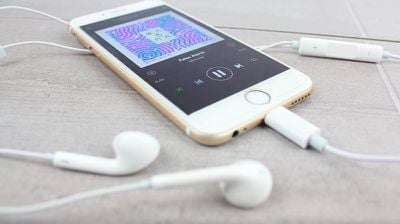 As is expected, the headphone part of the new EarPods is structured the same as the EarPods currently being sold by Apple, with a clean, white design, right and left markers on each earpiece, and in-line volume and play/pause controls. Interestingly, the in-line controls are placed farther down on the EarPods, directly below the right/left split in the cable design. If real, this would mark a design change from the current generation, which places the volume rocker along the right cable, above the bifurcation in the cord.
The most notable part is, of course, the long-rumored addition of the Lightning plug onto the EarPods, adapted to take advantage of the removal of the 3.5 mm headphone jack from the iPhone 7 and iPhone 7 Plus. The plug on the Lightning-enabled EarPods appears slightly bigger than Apple's traditional Lightning adapters thanks to the inclusion of a digital-to-analog converter needed for music playback and not just straightforward charging.
In the video, the EarPods are proven to be completely functional through the playing of a few songs as well as using the in-line controls to play, pause, and skip some tracks.
MobileFun
concluded to its viewers, "as you can see, these are fully working, they aren't just a mock-up of what you might receive," believing that the working headphones will be what Apple sells alongside the new generation of iPhone in September.
Multiple solutions for the removal of the 3.5 mm headphone jack have sprouted up over the past few weeks, with one of the most prevailing alternatives centering around a Lightning to 3.5 mm dongle that the company could potentially bundle into the box of the iPhone 7 and iPhone 7 Plus to cushion the transition for customers. More recently, it was reported that Apple could be working on completely wireless "AirPods" as an option for iPhone users, allowing simultaneous iPhone charging and headphone music playback, which is one of the most commonly occurring grievances surrounding the loss of the 3.5 mm headphone jack.
Previous Coverage: Lightning Headphones: Are They Better or Just an Inconvenience?