More Photos Show Off Alleged Lightning EarPods for iPhone 7 [Update: Fake]
A series of photos have been posted on Chinese microblogging service Weibo, and later shared by French website NWE, that provide a closer look at what appear to be Lightning-equipped EarPods. However, it cannot be fully distinguished if these are official Apple headphones or simply Chinese counterfeits.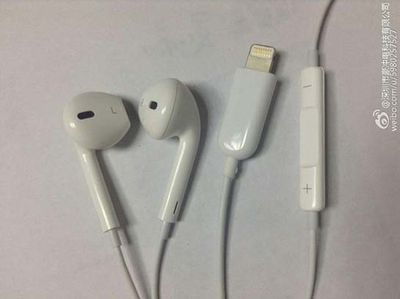 Apple is expected to remove the 3.5mm headphone jack on the iPhone 7 series, and multiple rumors have suggested that Apple will release EarPods with a Lightning connector in turn. The headphones, beyond having no 3.5mm headphone jack, look nearly identical to current EarPods.
One discernible difference is the larger plastic housing around the Lightning connector compared to the 3.5mm headphone jack on current EarPods. However, the switch to Lightning likely means EarPods will be equipped with a DAC, or digital-to-analog converter, and it needs to be built in somewhere.
While these photos could easily be fake, the switch to Lightning-equipped EarPods makes sense given rumors about the headphone jack's impending demise. Apple may also release a dongle for connecting wired headphones with standard 3.5mm jacks, while wireless Bluetooth headphones will continue to be supported.


Apple's exact reasons behind its supposed plans to remove the 3.5mm headphone jack are unknown, but rumors suggest that iPhones could have wireless charging by 2017. The iPhone 7 is also expected to be up to 1mm thinner and have increased waterproofing compared to the iPhone 6s.
While the Lightning connector is expected to become an all-in-one port for audio output, charging, and accessories, only a handful of Lightning-equipped headphones are available today, including Philips' Fidelio M2L and Fidelio NC1L models.
Last month, Apple supplier Cirrus Logic introduced a new MFi Headset Development Kit, a reference platform that is designed to help "Made for iPhone/iPad/iPod" accessory makers quickly develop Lightning-based headphones. The development kit is available through Apple's MFi Program for registered licensees.
Those interested in learning more about Lightning-equipped headphones can watch our video: Lightning Headphones: Are They Better or Just an Inconvenience? We also shared a video showing what an aftermarket 3.5mm-to-Lightning adapter looks like as they began to reach the market in recent months.
Update: NWE editor Steve Hemmerstoffer has updated his article to confirm that these are not official EarPods.