Apple's New Music Royalty Proposal Would Make Streaming Costlier for Free Services Like Spotify
Apple has submitted a proposal to the U.S. Copyright Royalty Board calling for a simplified way to pay songwriters and music publishers for streaming music, according to Billboard. While the change would benefit labels, artists and publishers, it would make it more difficult for streaming services like Spotify to continue offering free tiers.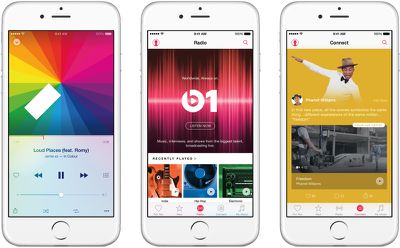 Apple, which has always had a gift for creative simplicity, wants to make this process easier and more transparent, according to a copy of the filing obtained by Billboard. The company's proposal to the Copyright Royalty Board suggests a simple, "all-in" statutory rate that would be "fair, simple and transparent, unlike the incredibly complicated structure that currently exists."
Apple's suggested rate is 9.1 cents per 100 plays, which would make the songwriting royalties for 100 streams equal to the royalties for a single song download. However, the change would make it more expensive for companies like Spotify and YouTube to offer free music tiers.
The current system sees streaming companies paying songwriters and publishers between 10.5 and 12 percent of their revenue using what Billboard terms a "complicated formula." The money is then divided into public performance and mechanical royalties, which is then paid to publishers and "collected societies." Currently, Apple and other streaming music providers don't have to pay publishers the statutory rate set by the Royalty Board because they can negotiate their own deals. However, negotiations between publishers and streaming services would start at a different place should Apple's proposal become rule.
The Copyright Royalty Board, which is made up of a panel of three judges, is still in the early stages of determining potential statuary rates for 2018 to 2022 so it's unclear whether Apple's proposal would take hold or ever come to be.
While Apple Music has garnered about 15 million paying subscribers in the year since its launch, rival Spotify has twice as many, with the company citing Apple's entrance into paid music streaming as a boon to its business. Despite user and revenue growth, Spotify continues to operate at a loss due to expensive royalties and revenue sharing with music labels, with recent losses growing 10 percent to $195.7 million.