Spotify Has Twice as Many Paid Subscribers as Apple Music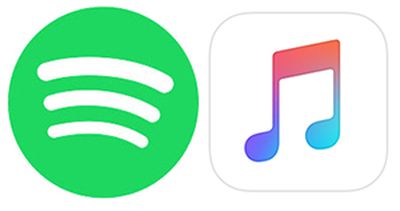 Spotify confirmed to The Telegraph today that it now has more than 100 million monthly active users worldwide, including approximately 30 million monthly paying subscribers.
Comparatively, Apple services chief Eddy Cue announced at WWDC 2016 last week that Apple Music has 15 million paying subscribers, just two weeks before the streaming music service turns one year old. Apple Music was at 13 million subscribers in April and 11 million subscribers in February, meaning that it has been growing at a rate of about 2 million subscribers every two months.
Spotify, which launched in Europe in October 2008 and expanded to the U.S. in July 2011, thereby remains the world's most popular streaming service, but Apple Music is quickly closing the gap. Both services cost $9.99 per month for individuals and $14.99 per month for families, while only Spotify offers a free ad-supported tier.
Nevertheless, Spotify recently said that Apple Music has helped, not hurt, its business. Since Apple Music launched on June 30, 2015, its European rival has grown at a faster pace than beforehand. Spotify has now surpassed Skype as the most lucrative European startup, with an estimated valuation of roughly $8.5 billion.
"It's great that Apple is in the game. They are definitely raising the profile of streaming. It is hard to build an industry on your own," Jonathan Forster, a vice president and one of its first employees, told Reuters in an interview.

"Since Apple Music started we've been growing quicker and adding more users than before."
Despite rising users and revenues, Spotify continues to operate at a loss due to expensive royalties and revenue sharing with music label partners. The report claims Spotify's losses rose by 10 percent to $195.7 million (173 million euros) last year, prompting some investors to question the viability of its business model.