Philips Unveils Lightning-Based Fidelio NC1L Noise Canceling Headphones With No Need for Batteries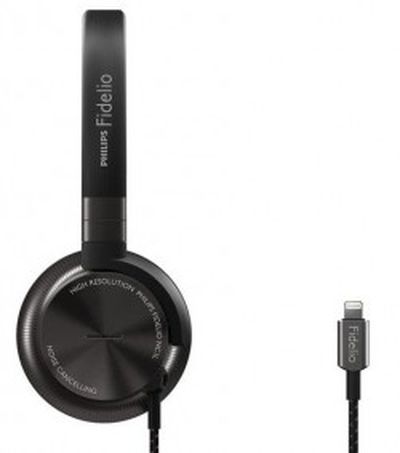 Philips today added to its lineup of Lightning-equipped headphones with the new Fidelio NC1L. Similar to its predecessor the Fidelio M2L, the NC1L headphones use a 24-bit digital to analog converter to provide high-quality audio playback.
As detailed by The Verge, the Fidelio NC1L headphones plug directly into the Lightning port, providing a direct digital connection to the phone and a power supply for the headphone's onboard noise cancellation technology. The Lightning connector power allows Philips to provide a valuable feature like noise cancellation without requiring the additional bulk of a battery.
Digital Trends went hands-on with a prototype of the new headphones and found they offered solid performance.
As for the performance, our initial audition of the cans impressed, as they blocked out an immense amount of ambient noise even at low volume levels. The set we tried out is only a prototype, and the final version will undergo some interior and exterior design changes. But even at the early stages, we're excited about this technology.
Designed for usage in a variety of environments, the Fidelio NC1L headphones also include multiple noise profiles suitable for making phone calls and for allowing ambient noise when awareness of your surroundings is necessary. The Fidelio NC1Ls should launch in North America in April for $299.