What to Expect at Apple's 'Let Us Loop You In' Media Event
Apple will hold its first event of 2016 next Monday, and while it won't be as exciting as last year's event that saw the launch of the Apple Watch, Apple is planning to introduce several new products. Headlining the event will be the 4-inch iPhone SE, Apple's first 4-inch iPhone since 2013.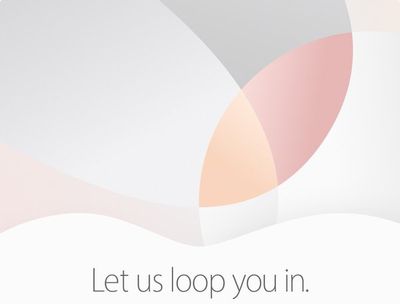 Joining the iPhone SE will be a new 9.7-inch iPad, a range of new Apple Watch bands, and software updates for iOS 9, watchOS 2, tvOS, and OS X El Capitan.

iPhone SE
Apple's 4-inch iPhone, the "iPhone SE," is modeled after the iPhone 5s. It is said to be close in size and shape to the iPhone 5s, with the same general dimensions, but rumors say it also includes a display that curves very slightly at the edges, similar to but not as dramatic as the iPhone 6s.
Renderings, cases, and design drawings have disagreed somewhat on the design of the device, with some depicting an aluminum body identical to the iPhone 5s and others depicting more rounded edges like the iPhone 6s to match the rumors of a curved display, leading to questions about the final design of the device.


Because of these mixed rumors and a lack of part leaks, we still don't know for sure exactly what the iPhone SE will look like, but the most recent information has leaned towards an iPhone 5s-style design.

iPhone SE renderings created by case maker Spigen
While the iPhone SE may have an external design that matches the iPhone 5s, its internals are modern and up to date. It's said to include the same
A9 processor
found in the iPhone 6s, along with either an
8
or
12-megapixel
rear camera that supports Live Photos. With the A9, which includes an integrated M9 motion coprocessor, the iPhone SE will support always-on "Hey Siri" functionality.
3D Touch will not be included, because it is a flagship feature of the iPhone 6s, but the iPhone SE will have a Touch ID-enabled Home button and an NFC chip for use with Apple Pay.
It will also include the latest iPhone features like Bluetooth 4.2, fast 802.11ac WiFi and VoLTE. It may also include a 1,642 mAh battery, larger than the battery in the iPhone 5s. The iPhone SE will be available in the same colors as the iPhone 5s - Silver, Gold, Space Gray, and Rose Gold. As for pricing, it the entry-level device may be priced at $400 to $500.

9.7-inch iPad
Apple didn't refresh the 9.7-inch iPad in September when it introduced the iPad Pro and iPad mini 4, so the tablet is due for an update. While the last two 9.7-inch iPads have been branded as the "iPad Air," rumors suggest Apple is retiring the iPad Air line.
The new 9.7-inch iPad is said to be branded as an "iPad Pro," joining the 12.9-inch iPad Pro. Apple's iPad line will resemble the MacBook Pro line, which is also sold in multiple sizes under the same name.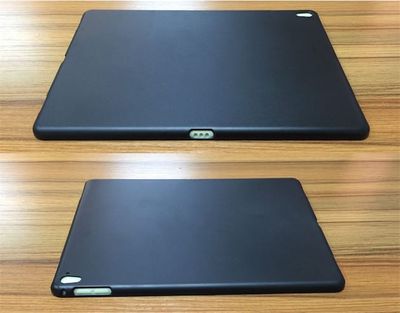 A case designed for the new 9.7-inch iPad


As the name implies, the 9.7-inch iPad will adopt many features from the existing iPad Pro, but the general size and shape will continue to be similar to the iPad Air 2. It will include a four-speaker layout for louder, more immersive audio, with two speakers positioned at the top of the device and two speakers positioned at the bottom.
The 9.7-inch iPad will essentially serve as a smaller iPad Pro. It will have a Smart Connector allowing it to support accessories like the Smart Keyboard, and it will feature the same display improvements to enable Apple Pencil functionality. A powerful A9X processor will be included, and it may have an upgraded 12-megapixel camera, the same found in the iPhone 6s. The new iPad may also be the first of Apple's iPads to have a rear-facing flash.
Pricing on the iPad is said to start at $599 for a 32GB Wi-Fi only model, with a 128GB model and cellular models also available for purchase at higher price points.

Apple Watch Bands
Apple won't introduce a new Apple Watch at its spring event, but we are expecting to see new Apple Watch bands. Existing bands like the Sport Band, Modern Buckle, and Leather Loop may be available in new colors, and rumors suggest Apple has been working on a new Apple Watch band made from nylon.
Also in the works is a Space Black Milanese Loop to match the Space Black Stainless Steel Apple Watch.


Software Updates
Apple has been working on software updates for Mac, iOS, Apple Watch, and Apple TV 4 since January 11, and it's likely all four updates will be available shortly after the March event.
iOS 9.3
iOS 9.3 is the biggest update to iOS 9 yet, introducing a new Night Shift feature that cuts down on blue light exposure in the evening for better sleep. For iPhone 6s and 6s Plus users, several apps have new Quick Actions in iOS 9.3.
Weather, Settings, Compass, Health, App Store, and iTunes Store all offer new or improved features when pressed on the Home screen. Settings, for example, offers quick access to Bluetooth, Wi-Fi, and Battery settings, while the App Store offers an option to update all apps.
Several apps have been updated, and there are additional new features. Apple News has support for in-line video, better personalized recommendations, and a landscape view on the iPhone, while Health has an Apple Watch-style "Activity" view. Notes has an option to password protect individual entries with passcode, Verizon subscribers gain access to Wi-Fi calling, and there are new features for education users.
watchOS 2.2
Along with iOS 9.3, watchOS 2.2 introduces support for connecting multiple Apple Watches to a single iPhone. The update also includes an update for the built-in Maps app. Along with a revamped interface and buttons for accessing quick directions to home and work, Maps now supports the Nearby feature first introduced with iOS 9, allowing users to to quickly locate local points of interest.
OS X 10.11.4
OS X 10.11.4 is a minor update to OS X El Capitan, focusing mainly on under-the-hood performance improvements and updates.
New features include support for password protected notes and importing notes from Evernote in the Notes app. OS X 10.11.4 also brings support for viewing Live Photos directly within the Messages app.
tvOS 9.2
tvOS 9.2 is a significant update for the tvOS operating system, bringing several features that have been sorely missing from the fourth-generation Apple TV. It includes support for Bluetooth keyboards and Dictation, introducing two new text entry methods for inputting usernames and passwords.
The update also includes support for grouping apps into folders on the Home screen like on iOS devices, and there's a new look for the App Switcher interface. In the Photos app, there's now support for iCloud Photo Library and Live Photos, and there's a firmware update for the Apple TV remote that adds improved motion sensor performance and support for additional sound bar and receiver hardware.
Perhaps the most useful feature in tvOS 9.2 is Siri search for the App Store, allowing users to ask Siri to find specific apps or categories of apps, such as games. tvOS 9.2 also includes support for MapKit so developers can incorporate maps into their tvOS maps and there are new language options for Siri.

Other Possibilities
Many of Apple's notebooks are due for a refresh, including the Retina MacBook, the MacBook Air, and the MacBook Pro, but there have been no rumors suggesting we will see updates at the March event.
With no rumors pointing towards a refresh, it's unlikely to happen, but with Skylake chips available for some machines, such as the MacBook, a Mac-related announcement remains a slim possibility. It is more likely we will see Mac refreshes starting at a later date, perhaps ahead of or at Apple's June Worldwide Developers Conference.