Live Coverage of Apple's March 2015 'Spring Forward' Event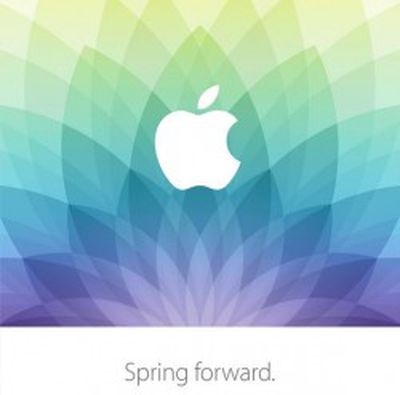 Six months after the Apple Watch's unveiling, Apple's "Spring Forward" media event in San Francisco today will give us final details on the device ahead of its launch next month. We could see a few other announcements as well, but given the tagline and timing of the event, the Apple Watch will undoubtedly be the focus of today's proceedings.
The event is being held at the Yerba Buena Center for the Arts in San Francisco and begins at 10:00 AM Pacific Time / 1:00 PM Eastern Time. Apple will be providing a live video stream on its website for Mac and iOS users and via Apple TV.
Live Video Stream of Apple's March 2015 "Spring Forward" Media Event
In addition, we will be updating this article with summary coverage and issuing Twitter updates through our @MacRumorsLive account as the event unfolds. Highlights and separate news stories regarding the event announcements will go out through our @MacRumors account.
Sign up for our newsletter to keep up with Apple news and rumors.
Apple's online stores around the world are currently down in advance of the event.

Archive of Live Updates in Reverse Chronological Order

11:35 am: Thank you all for coming, it's a privilege to present in front of this group. Thank you.
11:34 am: I'd like to personally thank all of the Apple team that made today possible. What you saw today is years of very hard work in the making.
11:33 am: Recapping the event.
11:33 am: This is what everyone at Apple is focused on. Pushing all of our products forward and creating a better future.

11:32 am: Ad playing now
11:32 am: "Incredibly excited about this new family of products for us. We want the world to know that the Apple Watch is coming."

11:31 am: Available April 24, Australia, Canada, China, France, Germany, Hong Kong, Japan, United Kingdom and United States
11:31 am: Go, look and experience an Apple Watch in person in one of our retail stores. New custom table in retail store where you can see all Apple watches beautiful displayed. Retail staff is on hand to try them on.

11:30 am: April 10, pre-order and preview.
11:30 am: Apple Watch Edition is the most beautiful expression of the Apple Watch.
11:30 am: Limited quantities. Priced from $10,000. Available in select retail stores.
11:30 am: Apple Watch Edition: 38mm and 42mm, 18K solid gold. Come with beautiful, custom designed bands, with details like elegant clasps and buckles, that are also made of solid gold.

11:29 am: Apple Watch: 38mm $549-$1049 depending on band. 42mm: $599-$1099.

11:27 am: There's a reason stainless steel has long been used to create watch cases.
11:26 am: This stainless steel is no ordinary stainless steel. Video time:

11:26 am: $349 for 38mm, $399 for 42mm.
11:25 am: This aluminum alloy sets a new standard, both in the way it performs and the way it looks.

11:25 am: finely tuned extrusion process creates a uniform surface free of defects. After being meticulously formed, each case is machined, buffed and textured with microscopic zirconia beads to achieve a satin finish.
11:25 am: Poured, jet cooled and cast.
11:24 am: This requires precision alloying. Ray aluminum of exceptional purity is first heated to a molten state. Tightly controlled amounts of magnesium and zinc are added. Protective compound that strengthens the metal.
11:24 am: Our engineers have custom designed a new alloy, 60% stronger than standard alloys, but just as light.
11:23 am: Aluminum is not your usual run of the mill aluminum. Here's a video:
11:23 am: Apple Watch Sport. Anodized aluminum in silver or space gray. Colorful bands made out of high performance flouroelastomer.
11:23 am: We've curated Apple Watch into three collections.
11:23 am: During typical day, you can expect 18 hours. At the end of the day, there is a simple and elegant way to charge it that only Apple would come up with. Hold magnetic charger near the watch, it will automatically click into place.

11:22 am: Apple Watch is quickly going to become integral to your day. All-day battery life across a range of activities.
11:22 am: Set up friends, and decide which notifications you want coming to your watch. iOS 8.2 is available today for download.
11:22 am: Has App Store inside. See, browse and download apps.
11:22 am: Go to iPhone to see apps, browse apps, and download apps. There will be some great third party apps. In iOS 8.2, you will find this new app: Apple Watch.
11:21 am: Cook: I think you're going to be surprised about what the developers are going to do.
11:21 am: Excited to see what developers are going to do with this new platform.
11:21 am: Focus is on saving you time in your life.

11:20 am: Uses Alarm.com app to open garage door remotely. Shows live feed of video on garage door as it opens.
11:19 am: Shazam can recognize a song and give lyrics.
11:18 am: Bypass front desk, check in, watch is the room key.
11:18 am: Showing SPG Hotel app, allows him to unlock the door of his hotel room.

11:17 am: Boarding pass can show up on the watch with Passbook, including a barcode to wave in front of scanner and use as a boarding pass.
11:15 am: Apple Watch communications with iPhone over Wi-Fi and Bluetooth.
11:14 am: Force press the watch screen to quickly change watch faces.
11:13 am: Activate Apple Pay by double-tapping the communicate button.

11:11 am: Siri activates by holding the crown. Activate voice by saying "Hey Siri."
11:11 am: Some glances I might look at... stock market, business information from SalesForce, sports scores from MLB At Bat, top trend on Twitter, American Airlines for upcoming trips.
11:10 am: A day in the life of Apple Watch... at work:
11:09 am: Released WatchKit SDK in November. Since then, developers have been creating thousands of new apps. Some are pretty phenomenal. We wanted to show you a few of those this morning. To do that, I'd like to invite Kevin Lynch up.
11:08 am: You can pay with Apple Pay, view photos, you can control your music. You can interface with Apple Watch with Siri, just using your voice. And, you can get notifications on Apple Watch. Any notification that you receive on iPhone today, you can receive on your watch.
11:07 am: Starting today, you can follow Christy's training through a weekly blog on Apple.com

11:05 am: Christy coming on stage to talk about "her next big adventure"
11:04 am: "In the short time I've been using it, I can already see how this will be an important part of my life."

11:03 am: Running video showing her run.
11:03 am: First person in the world to finish a half-marathon while wearing an Apple Watch.
11:02 am: "We gave an Apple watch to a friend of ours." Christy Turlington Burns.
11:01 am: New workout app, allows you do things like running and cycling, or pretty much any machine that's in your gym. Will provide details metrics that you can see during your workout. Calories you're burning, distance you're traveling, the time. Very easily tracked.
11:00 am: Can send you reminders as a friend would, to remind you to be more active. Will send you a report on Monday of how you did the previous week. Will suggest a new move target for the week ahead. "It's like having a coach on your wrist."
11:00 am: Comprehensive health and fitness companion. We want people to be healthier by being more active.
10:59 am: Cook going over features announced last year.

10:58 am: You can read full emails, mark them unread, flag or delete them. Also some all new ways to communicate.
10:58 am: With built-in speaker and microphone, you can receive calls on your watch. I've been wanting to do this since I was five years old! The day is finally here!
10:58 am: Allows you to communicate immediately and intimately. Right from your wrist, you can receive messages. Tactic engine alerts you by tapping your wrist so you can read and respond to that message instantly.
10:57 am: Apple Watch brings a personal dimension to timekeeping.
10:57 am: Swipe up from bottom of watch face, see weather, calendar, control music, and even check your heart rate.

10:56 am: Cook discussing different face types and complications.
10:55 am: Accurate to 50ms of UTC. Super accurate and you don't have to worry about it. In addition, every Apple Watch has many different faces and configurations.
10:55 am: Apple Watch is the most advanced timepiece ever created. It's a revolutionary new way to connect with others. And it's a comprehensive health and fitness companion.
10:54 am: We crafted each one of them with the care you'd expect from Apple. Incredibly beautiful materials.
10:54 am: Most personal device we have ever created. Not just with you, it's on you. And since what you wear is an expression of who you are, we designed Apple Watch to appeal to a whole variety of people with different taste and different preferences.
10:54 am: The newest addition to the Apple family: The Apple Watch.
10:53 am: "I think you're really going to love it."

10:53 am: Tim Cook back out.
10:53 am: Shipping today.
10:53 am: 13" MacBook Pro: Force Touch trackpad. 5th-gen Core i5 and i7, 2x faster flash. 10-hour battery life, one hour longer.
10:53 am: Joins MacBook Air, MacBook Pro. Update to MacBook Air to 5th-gen Intel Core i5 and i7, Thunderbolt 2, 13" version gets 2x faster flash, shipping today.

10:52 am: Shipping April 10.

10:52 am: 1.2GHz dual-core Intel Core M, 512GB SSD for $1599
10:52 am: 12.1-inch Retina, 1.1GHz dual-core Intel Core M, Intel HD Graphics 5300, 8GB memory, 256GB SSD. $1299.
10:51 am: #MacBookLust
10:51 am: Schiller back on stage.
10:51 am: It's what, we believe, is the best MacBook yet.
10:51 am: Ive is describing the various features again.

10:47 am: Showing a Jony Ive video.
10:47 am: The world's most energy-efficient notebook.
10:46 am: Thinnest, lightest, most beautiful notebook we've ever made. Silver, Space Gray and Gold.
10:45 am: USB-C is a third the size of a USB cable. Reversible.

10:45 am: USB-C. Apple and other companies have created new industry standard.
10:45 am: New power port, one connector has USB, DisplayPort, HDMI, VGA support.
10:44 am: This is the vision of the future of the notebook. One of extreme portability.
10:44 am: A future without wires: 802.11ac, Bluetooth 4.0 built in.
10:43 am: 9 hours wireless web, 10 hours iTunes playback.

10:43 am: All-day battery life in new MacBook.
10:43 am: 35% more battery in same space.
10:43 am: Rest of the space is filled with batteries. Apple's asymmetric battery technology. Battery chemistry reworked. Developed terraced, contoured battery cells that fit the contours of the MacBook's enclosure.
10:42 am: Intel Core M, 14nm process. 1.3GHz with Turbo up to 2.9GHz. From just 5 watts of power. Very energy efficient.

10:42 am: New logic board is substantially smaller than 11" version. 67% smaller. One-third the size of Apple's previous smallest logic board.
10:41 am: What's on the inside is just as innovative as the outside. Latest unibody architecture. New MacBook has no fan at all.
10:40 am: Engineered like no trackpad ever has before.
10:40 am: When you Force click on a word, you get Wikipedia lookup. Force click an address and get a map. Force click a date and time, creates a calendar entry. Force click on the Finder and get Quick Look.

10:39 am: Click feel is adjustable. Force sensors sense a range of pressure from lights click to deeper Force click press.
10:38 am: Traditional trackpad is hinged like a diving board. New trackpad is called "Force Touch trackpad". Glass multi-touch surface, with four force sensors underneath and tactic engine from Apple Watch to provide feedback of clicking.
10:38 am: 0.88mm thin display panel. larger pixel aperture. Consumes 30% less energy with same brightness.

10:37 am: 2304x1440 pixels.
10:37 am: 12-inch display. Full edge-to-edge cover glass. Retina display.

10:37 am: New lighting system for the backlight. LED for each key, makes it thinner and more precise for illumination.
10:36 am: 17% larger keycap.
10:36 am: Key that is much more precise and accurate. 4x more stable than scissor. 40% thinner.
10:36 am: All-new keyboard. New butterfly keyboard mechanism. Replaces old scissor-type.
10:35 am: All metal enclosure. Team has integrated antennas right into the enclosure. Full-size keyboard, goes all the way to the edge. Defines the size of the notebook.

10:35 am: Lightest Mac we have ever made. At its thickest, 13.1mm, thinnest Mac we've ever made. Previous thinnest Mac, 11" MacBook Air was 17.3mm. 24% thinner.
10:34 am: Looks gorgeous from every angle. New MacBook weighs just two pounds.
10:34 am: Most extreme and efficient notebook we've ever created. Took reinventing every technology in it to deliver something this amazing.
10:33 am: Phil Schiller coming up to talk about it.
10:33 am: "Can you even see it? I can't even feel it!"

10:33 am: Silver, space gray, gold.
10:33 am: Gold MacBook Air, extremely thin, very few ports.
10:32 am: And we did it. Here it is. Video running.
10:32 am: Challenged ourselves to take everything we'd learned on iPhone and iPad, and do something incredibly ambitious and bold. We challenged ourselves to reinvent the notebook.
10:31 am: When you're out in the wild, you'll see Macs everywhere now. They're in schools, businesses, coffee shops and airports, and hopefully they're in your living room. The definition of portability has changed in the last several years led by iPhone and iPad.
10:31 am: Look at notebooks, the numbers are even more telling. Last year the industry shrank 2%, and Mac grew over 20%.
10:31 am: For every year of the past decade, the Mac has outgrown the industry.
10:31 am: This is the strongest Mac lineup we ever have had. We continue to innovate, we continue to lead the industry, and more importantly we continue to provide the very best experience for our customers.

10:30 am: I'd like to talk about the Mac.
10:30 am: The iPhone continues to change so many things in our lives, and we're incredibly confident that it'll change medical research and we are so proud to be a part of it.
10:30 am: Tim Cook back on stage.
10:30 am: Apple has always believed that amazing things can happen when you put technology in the hands of the many. There's a brilliant and motivated research community out there, and we can't wait to see what they do with it.
10:29 am: We're releasing ResearchKit next month, and the first five apps that you saw are going to be available today.
10:29 am: "We're going to add to ResearchKit over time. We wanted anybody everywhere to contribute, so we're going to make this open source."
10:28 am: "This is exactly where medicine is going. It has to."
10:28 am: The easier you can make it for people to participate, the better off we're going to be.
10:27 am: "We want to put people at the center of research."
10:26 am: "We're trying to change the scale of the amount of data that we can collect."

10:25 am: "We're really excited about ResearchKit. We thought it would be great if you heard from the people who have been working with it. Video rolling
10:24 am: Privacy. "there is nothing more sensitive than your medical data. You decide whether to participate. You decide how your data is shared. Apple will not see your data."
10:23 am: Other apps: Glucose. Cardiovascular disease. Asthma. Breast cancer.
10:22 am: App pulls data from HealthKit.
10:21 am: Tapping test that evaluates hand tremors. Can say Aaaaaaah into the microphone for as long as you can. Measures minute variations to assess Parkinson's. Put iPhone in pocket, walk 20 steps and back, accelerometer and gyroscope can precisely measure gait.

10:21 am: Anyone with Parkinson's can contribute to research. App turns iPhone into a diagnostic tool.
10:20 am: We've built 5 apps with medical institutes. Parkinson's: Worked with University of Rochester, Xuanwu Hospital, and Sage Bionetworks.
10:20 am: A software framework made specifically for medical research. Lets researchers easily make apps. Turns iPhone and HealthKit into powerful diagnostic tools for medical research.

10:19 am: 700 million iPhones, and many say they would help if they could. Today, we announce ResearchKit.
10:19 am: Study participants don't hear back until the end of the study, if at all. We looked at these problems and saw that we could help.
10:19 am: Subjective data. Infrequent data. Researchers get snapshots of data through time. Reality is, disease symptoms ebb and flow, daily and sometimes hourly. Perhaps the most significant challenge is one-way communication.
10:18 am: Need volunteers, and small sample sizes.
10:18 am: Talked to a lot of medical experts and conversation turned to research. Biggest challenge researchers have is recruiting.
10:18 am: Jeff Williams, SVP of Operations on stage.
10:17 am: But we have always wanted to make the biggest difference we could make. As we worked on HealthKit, we came across an even broader impact that iPhone could make. And that is on medical research.
10:17 am: Health: Perhaps the most profound change and positive impact that iPhone will make is on our health. There are already over 900 incredible apps that help you manage and track your health and fitness.
10:16 am: HomeKit: Changing how we control our devices at home. Working with leading automation companies.
10:16 am: More than 40 new models of cars shipping by the end of this year.

10:16 am: We never leave home without the iPhone. Transforming more of our lives. CarPlay: every major car brand has committed to delivering CarPlay.

10:15 am: Coca-Cola has 40,000 vending machines that take Apple Pay, growing that significantly before the end of the year.
10:14 am: Apple Pay. It's gotten off to the most amazing start and has enormous momentum. Started with 6 banks, a fantastic start. 2,500 banks supporting Apple Pay. Great list of retailers, but now in just 3 months, we've tripled the number of locations accepting Apple Pay to nearly 700,000 across the US.
10:13 am: Top-selling smartphone in the world. But we are most proud of customer satisfaction rate of 99%.
10:13 am: Year over year iPhone sales growth of 49%. Industry was 26%.

10:13 am: Recently we sold our 700 millionth iPhone.
10:13 am: iPhone not only created a category, it created a benchmark by which all other smartphones are measured. Widely considered the best smartphones in the world.
10:12 am: "This is just the beginning."
10:12 am: "If you don't have one yet, now's the time."
10:12 am: Price cut, Apple TV now $69.
10:12 am: Apple TV has become the category leader. We've sold 25 million units so far. Has very attractive entry level price of $99.
10:11 am: Tim Cook back on stage.
10:10 am: Showing Game of Thrones trailer for the new season.
10:09 am: First month free, in time for April 12 premiere of Game of Thrones.
10:09 am: Coming in early April for $14.99 a month.
10:08 am: All original programming, past, present and future. No cable or satellite subscription. Just broadband connection and Apple device.
10:08 am: Announcing HBO Now. Couldn't be prouder that Apple is our exclusive partner at launch. Entire TV and movie catalog.

10:08 am: On behalf of all of us at HBO, let me say we love Apple and all the extraordinary products that have captured the imagination of everyone around the world.
10:07 am: Today, we have the CEO of HBO, Richard Plepler joining us. He's a friend of ours and he has some exciting news about HBO.
10:07 am: Their shows have become a part of our culture. Mentioning the Soprano's, Entourage, Sex and the City. Coming next month on April 12, it's the return of Veep and Silicon Valley and Game of Thrones.
10:06 am: That is HBO.
10:06 am: Of all the great channels, there's one in particular I'd like to talk about this morning.
10:06 am: Apple TV!
10:06 am: A few more reasons to visit our stores today.
10:05 am: That's our brief update on retail.
10:05 am: Best place to discover and explore our products, and get world class support. 120 million customers visited last quarter.

10:05 am: Proud to have this fantastic new store in China. 6 stores in China in the last six weeks. 21 stores in Greater China, and "very aggressive" plan to be at 40 by mid next year. 453 stores in 16 countries.
10:04 am: Talking up architecture of West Lake store. "Breathtaking." Perfect place to experience our products.
10:04 am: "Welcome to San Francisco!"
10:03 am: Tim Cook on stage. "Good morning!"
10:02 am: Starting with a video showing opening of West Lake, China Apple Retail Store.
10:01 am: The event is beginning!
9:55 am: Apple's video stream is now up and running.
9:54 am: We're only five minutes away!

9:46 am: Photos web app on iCloud.com appears to be down. Giving the "Welcome to Photos" dialog and says it's preparing a library, but doesn't appear to be making any progress.
9:44 am: Media members are now being let into the theater.

9:31 am: Media are still waiting outside the building, and Apple is posting a few live blog items to its coverage site ahead of the event.

9:18 am: Less than 45 minutes to go until the event begins. Media have gathered at the site and are picking up their badges.