iPhone SE Case Renderings From Spigen Support iPhone 5s-Style Design
We're just two weeks away from the rumored launch date of the 4-inch "iPhone SE," but due to mixed rumors and a lack of part leaks, we still don't know exactly what the device will look like. Rumors suggest an iPhone 5s-style body with an iPhone 6-style curved glass front panel, two concepts that are difficult to merge.
Design drawings and early case leaks out of China haven't been helpful thus far, also offering up conflicting information on the final design, but renderings from an established, well-known case manufacturer may help shed some light on what we can expect.
Spigen is an accessory company that often has some of the first cases available for new iOS devices, and the iPhone SE is no exception. The company is working on cases for the 4-inch iPhone, and case renderings obtained by MacRumors suggest Spigen expects a design that's nearly indistinguishable from the iPhone 5s.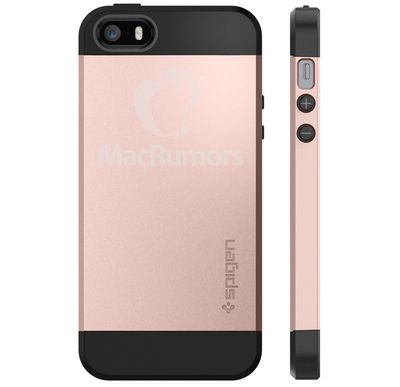 The device continues to have the same general shape as the iPhone 5s, with round volume buttons, a power button located at the top of the device, and a pill-shaped flash. Design drawings have suggested the iPhone SE could perhaps have a camera that protrudes slightly, something that can't be determined from the Spigen renderings.
Spigen's cases wrap around the front of the screen, making it unclear how the display of the iPhone SE differs from the display of the iPhone 5s. The edges of the iPhone SE are also not visible, so any slight differences in curvature would be difficult to determine from the rendering.
MacRumors has heard from multiple well-known case manufacturers that the iPhone SE will be the same size as the iPhone 5s, several of whom have been confident in that assessment, but how that ultimately meshes with rumors of an iPhone 6-style display remains to be seen.


Early cases are often accurate and serve as a solid indicator of what an upcoming iOS device might look like, but on occasion, case makers get design details wrong. As mentioned above, we have seen iPhone SE cases with distinctly different styles, so there is some disagreement on design between accessory makers.
Spigen's position as a well-known case manufacturer with a lot to lose may mean the company has put more resources into sussing out the look of the iPhone SE, but given all of the conflicting information, the design of the device may remain in question until it debuts on March 21.