Design Drawings Suggest iPhone 5se Will Look Almost Identical to iPhone 5s
Multiple rumors about the iPhone 5se have suggested the device will resemble the iPhone 5s, but its exact design has been difficult to nail down because the same rumors have also pointed towards a curved iPhone 6-style display, hinting at two design styles that don't mix well.
Case maker's design drawings and schematics shared today by 9to5Mac and OnLeaks (via iGen.fr) give us a clearer picture of what the iPhone 5se may look like, depicting a design nearly identical to that of the iPhone 5s.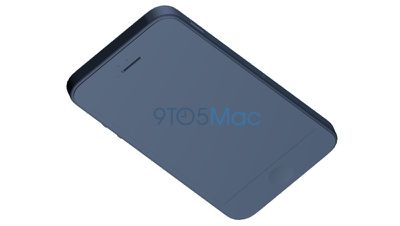 The iPhone 5se's dimensions are essentially the same as the dimensions of the iPhone 5s, measuring in at approximately 123.8mm tall, 58.6mm wide, and 7.6mm thick. In 9to5Mac's rendering, created from information obtained from a case maker, the power button has been moved to the side of the device, while OnLeak's schematic still has a power button at the top of the phone.


There's also conflicting information provided about the camera. The schematic depicts a protruding rear camera with a pill-shaped flash, while 9to5Mac says the iPhone 5se camera matches the camera of the iPhone 5s. It is unclear which is correct, but both agree on the general design of the device.


As for rumors of an iPhone 6-style curved cover glass, the iPhone 5se is said to have a display that curves slightly at the edges, but the curve isn't as dramatic as on Apple's newer devices.
In line with our sources have been saying since January, the case maker tells us that the edges of the device and the front glass panel are slightly curved around the edges, but not as curved as the sides of the iPhone 6 and 6s. Schematics shown on website iGeneration also show these curves, but do not show the relocated power switch.
The iPhone 5se will reportedly come in standard iPhone colors -- Silver, Space Gray, Rose Gold, and Gold -- which will make it nearly indistinguishable from an iPhone 5s at a distance. Its similarity to an iPhone 5s may explain why we have yet to see part leaks for the device despite its imminent launch date.
Case makers often put a lot of time and resources into nailing down the design of products ahead of their launch because being first to market with accessories for a new iOS device can be quite lucrative. Design drawings and schematics aren't accurate 100 percent of the time, but they often provide a clear look at upcoming product designs.
Apple is expected to introduce the iPhone 5se at an event that's planned for March 15, with a launch set to take place just a few days later on March 18. Other features rumored for the iPhone 5se include an A9 processor, an improved camera, and NFC to enable Apple Pay.