Video Demo Shows Benefits of Dual-Camera Technology
While at Mobile World Congress, CNET has produced a video featuring Corephotonics' dual-lens camera technology, which appears similar to that of Apple-acquired LinX. With Apple rumored to introduce a dual-lens camera on either the iPhone 7 or 7 Plus, the video offers an opportunity to see such technology in action, providing a glimpse at how it may work in Apple's next iPhone.
The technology uses software to combine the images of two separate camera lenses to create a more detailed picture, including the ability to optically zoom with no moving parts. In 2014, Corephotonics was able to use the tech to offer 3 times optical zoom, but has since increased its capabilities to offer 5 times optical zoom.
The demo showcases how effectively the dual-lens camera can optically zoom into an object while retaining crisp details. It also places a zoomed-in image from a single-lens camera next to a zoomed-in image from a dual-lens camera, contrasting the sharp difference between the two. CNET notes that when they tested an iPhone 6s Plus against the dual-lens camera the results were largely identical to the Corephotonics demo, with the dual-lens camera providing a distinctly sharper image.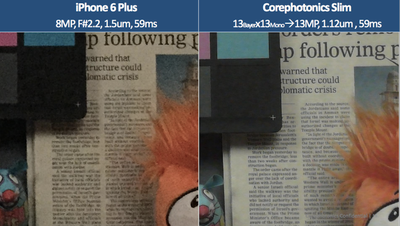 LinX's technology also uses multiple camera lenses to create a single high quality image, including noise reduction, better low-light quality and sharper details. Other than a dual-lens camera using LinX's technology, rumors claim the iPhone 7 could have a more waterproof design, a flush rear camera and no antenna bands on the back and, if ready, wireless charging. The iPhone 7 is expected to be released this fall.