A Look at LinX Camera Technology That Could Appear in Future iOS Devices
Apple's recent acquisition of LinX Imaging is one of the company's more exciting acquisitions in the last several months, as the technology being developed by LinX could lead to some significant improvements in camera quality in future iOS devices. Given the significance of the purchase, we wanted to take a deeper look at LinX's technology and what it could do for future iPhone photography.

No More Protruding Camera
LinX specializes in multi-aperture cameras for mobile devices, which offer several benefits over single aperture cameras, including the ability to pack impressive image quality in a smaller size. With a multi-aperture camera, LinX is able to take advantage of several smaller sensors rather than one large sensor, preventing the camera from needing a longer lens.

The iPhone 6 and the iPhone 6 Plus were equipped with protruding lenses so Apple didn't have to sacrifice image quality for thinness, but it's possible Apple could shrink the length of the camera in future iOS devices with LinX technology, resulting in a flush rear exterior. According to LinX, the use of multiple sensors over a single large sensor let it shrink the height of its camera device by a factor of 1.4 to 2. Comparatively, one of LinX's dual-aperture cameras was described by the company as "significantly" thinner than the iPhone 5s camera and able to "fit in a device thinner than the iPhone."

SLR Image Quality
LinX announced the launch of its most recent mobile-ready multi-aperture camera in June of last year, and in documentation [PDF], the company highlighted the many ways in which its technology improved upon other multi-aperture camera designs, citing image quality as its first priority.
When designing our algorithms and modules our first priority has always been IMAGE QUALITY. We even leveraged the multiple channels to boost the sensitivity of the camera which allows us to capture stunning images at very low light levels and keep exposure times short at normal indoor light levels.
LinX's mobile cameras were described as offering SLR-like images in normal lighting conditions with low noise levels, due to their ability to capture more details than standard single aperture cameras. To offer proof, LinX captured several photos with its LinX 8 mpix, a dual aperture camera with two 4-megapixel sensors with 2.0 micron BSI (backside illumination) pixels, and compared those to images taken with the iPhone 5s (equipped with an 8-megapixel single aperture camera with 1.5 micron pixels) and an iPhone 5.
Noise Reduction and Detail
The images captured by the LinX camera were brighter and clearer, with a significant reduction in noise. Available detail when zoomed into a photo was also much greater, as can be seen in the comparison below.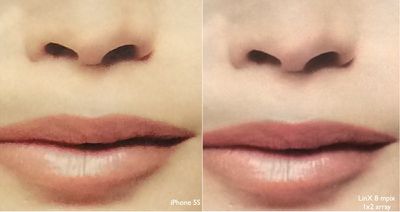 Indoor Lighting
In the photo below, the image was taken in mid-levels of light, at approximately 40 to 50 lux, similar to a decently well-lit room in a house or restaurant. The LinX sensor let in more light than the iPhone 5 or the Samsung Galaxy S4, for a photo that is clearer and sharper with less noise.


Very Low Lighting
LinX technology is able to significantly improve low light performance by using multiple channels to increase the sensitivity of the camera for better detail. It also keeps exposure times short to cut down on the motion blurring that can impact photo quality in conditions where lighting is not optimal. For a mobile camera in one lux of lighting, the detail that the dual-aperture LinX 8 mpix was able to capture is impressive.


Low light photos with less noise are also achieved through the use of clear pixels (adding clear pixels to standard red-green-blue filters) to let more light pass through in situations where lighting is low. The use of clear pixels lets in light without the need for larger pixels, keeping resolution high. Larger pixels typically result in more light for the sensor, but using large pixels cuts down on resolution. LinX technology doesn't have to compromise between pixel size and resolution, as it can use small pixels but still let in adequate amounts of light.

Pixel Technology
Smaller pixels also often introduce pixel crosstalk that can impact color clarity to result in muddier colors, but the LinX camera's clear pixels are less sensitive to this issue because they can collect more photons per pixel, also cutting down on noise levels.
In its documentation, LinX describes a 1x2 (aperture) camera module with two 5-megapixel sensors with 1.12 micron BSI (backside illumination) pixels, intended for a "super-slim handset with very limited space for the camera module." The camera is cheaper than the one found in the iPhone 5s, but delivers the same resolution due to its smaller pixels, so image quality is largely the same. Presumably Apple would use something a bit more cutting edge in its newer devices, but the product gives an idea of the type of technology LinX was working on.

Depth Mapping for 3D Models
With multiple apertures, LinX camera modules are able to calculate "ultra accurate sub pixel disparities" between images, letting them create detailed depth maps of a scene. With depth information on a per-pixel basis along with RGB information, LinX cameras can create 3D point clouds of objects from a single frame or a complete 3D model by combining several frames captured from different angles.

Point mapping with data taken from a single photo


Outdoors, depth can be calculated even in direct sunlight or in complete darkness with flash lighting (either visible or infrared).
This is interesting technology because it can be used in several fascinating ways. Depth mapping like this can let people create 3D scans of objects from simple photographs taken at multiple angles, and it can also determine the size of an object that's been photographed and its distance from another object (potentially useful for indoor mapping). It's also possible to use the depth information to refocus an image, introducing a synthetic blur that can emulate different depths of field (a method described in one of LinX's patents). In editing, the information could be used to remove and add objects to a photograph.

LinX Depth Mapping
LinX's Arrays
LinX offers several different camera options, each of which have unique applications. A 1x2 aperture array with a color and mono sensor, for example, can create low quality depth maps, improve low light performance, and produce better images.
A 2x2 array can create high quality depth maps with higher dynamic range, improved low light performance, and general image quality.
A 1+1x2 array uses two small apertures to create a depth map that provides focusing input for the main aperture, leading to ultra fast focusing even in conditions with very low lighting.

Apple and LinX's Technology
It's not clear how and when Apple will incorporate LinX's technology into its devices, but it's possible we could see these types of camera improvements as soon as this year. Rumors have suggested Apple is looking into a major camera boost for the iPhone 6s and 6s Plus, with new technology that could produce SLR quality images, and LinX's multi-aperture lens systems could potentially accomplish that feat.
Apple's iPhone is one of the most popular camera options in the world according to data from Flickr, which has led Apple to focus heavily on camera improvements over the years. Apple's commitment to photo quality has continually led to iOS cameras that offer superior images compared competing smartphones, and the acquisition of LinX could put it even further ahead of the competition.
More detailed descriptions of LinX's technology as well as additional comparison photos can be seen in a June PDF released alongside its latest products.