Samsung Announces Round 'Gear S2' Smart Watch
Samsung today unveiled its newest smart watch, the Samsung Gear S2, which is the company's first watch that includes a round display instead of one that's square or rectangular.
Positioned as Samsung's seventh smart watch release, the Gear S2 comes in three varieties: Classic, standard, and 3G. The Classic version includes a black case with a black leather band, while the standard version includes a dark gray case with a matching rubber band or a silver case with a white rubber band. According to Samsung, the Classic model is for users "who prefer a more timeless watch design," while the standard model is "ideal for those who are on-the-go and have an admiration for minimal and modern design."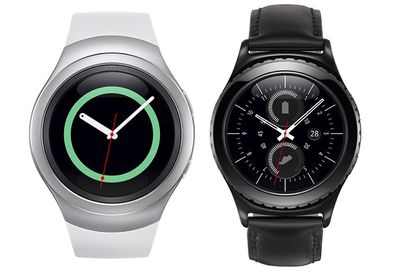 The third model, the 3G Gear S2, features the same design as the standard model but includes a 3G radio to connect to 3G cellular networks. With dedicated 3G capabilities, the 3G Gear S2 can be used without a phone, unlike the Apple Watch and most other smart watches on the market.
"For the past several years, Samsung has pioneered and advanced the wearables category, bringing brave new concepts to the smart wearables market," said JK Shin, CEO and Head of Samsung's IT & Mobile Business. "The Samsung Gear S2 reflects Samsung's most progressive innovation. It is the perfect complement for any occasion, easily taking you from day to night, from work to workout--and ensuring that you get more out of every moment in your day, by making it smarter and ultimately more personal and fun."
Each of the 11.4 millimeter thick Gear S2 watches includes a 1.2-inch diameter touch display with a resolution of 360 x 360 (302 pixels per inch), a 1 GHz dual-core processor, 512MB RAM, and 4GB of storage space. It charges wirelessly, has two to three days of battery life, and includes NFC, WiFi, and Bluetooth. On the battery front it outshines the Apple Watch depending on use, but it has less storage space than the Apple Watch's 8GB.
The bezel of the Gear S2 rotates, a feature that's used to navigate through the operating system to interact with apps, and it also uses dedicated Home and Back buttons. Samsung plans to release apps and watch faces designed specifically for the circular display of the Gear S2. Taking a cue from Apple, Samsung designed a new 24-hour fitness activity log for the Gear S2, which will let users view daily progress and get reminders to help them stay on track with fitness goals.
Samsung's Gear S2 watch runs the Tizen operating system instead of Android, making it incompatible with the Android Wear app for iOS that Google launched earlier today.
Samsung has not yet released pricing details on the Gear S2 or provided a release date, but the company plans to provide more information at the IFA consumer electronics trade show in Berlin, which starts later this week.