Apple Paying 0.2 Cents for Each Song Streamed Free During Apple Music Trial Period
Apple will pay record labels 0.2 cents for each song that customers stream for free during the three-month Apple Music free trial, reports The New York Times. The rate is similar to what Spotify pays out for songs accessed through its free streaming tier and does not include a smaller payment made to music publishers for songwriting rights.
Apple is still working to complete deals with publishers, but a second report from Billboard suggests the company may pay out an additional 0.047 cents per stream for song rights, for a total payment of approximately 0.247 cents for each song an Apple Music user listens to.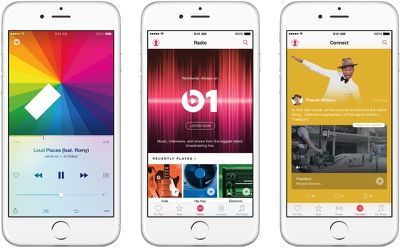 Though Apple did not initially plan to pay labels and publishers during the three month free trial it's providing to customers, it reversed course after both a strongly worded letter from Taylor Swift and negotiation difficulties with independent labels who balked at the terms.
The money that Apple is paying per stream during the trial period is significantly less than what rights holders will receive after Apple Music has paying customers, but it appears to have satisfied many indie labels. As of this morning, Apple signed deals with both Beggars Group and Merlin Network, companies that represent more than 20,000 indie labels and distributors.
Apple Music will officially launch next Tuesday in over 100 countries. All customers will receive a free three month trial, after which time a subscription will be required to access the service. Subscription prices vary by country, but in the U.S., an Apple Music subscription costs $9.99 per month for an individual or $14.99 per month for a family of up to 6 users.