Apple's newly announced music streaming service, Apple Music, is upsetting a handful of independent United Kingdom-based music labels who house artists such as Adele and Arctic Monkeys (via The Telegraph). Under the terms being proposed by Apple, labels will receive no compensation during the three-month free trial given to Apple Music users. The labels argue that this trial period will "literally put people out of business," and refuse to support the service, which launches in under two weeks on June 30.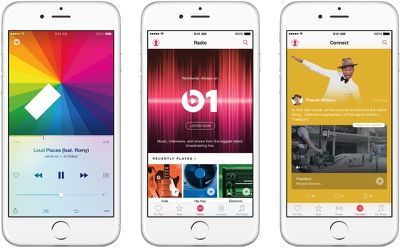 According to Andy Heath, the chairman of industry lobby group UK Music, no British independent labels have agreed to Apple's terms or plan to in the future. Most of the labels claim Apple hasn't thoroughly prepared the labels for the launch, and that the time between its announcement and launch has left little time for contract negotiations.

"If you are running a small label on tight margins you literally can't afford to do this free trial business," Heath stated. "Their plan is clearly to move people over from downloads, which is fine, but it will mean us losing those revenues for three months.

Apple hasn't thought this through at all and it's not like them. They can't spring a contract like this on us three weeks from release."
Apple has attempted to reassure skeptical labels that once the three-month free trial ends, Apple Music will support a 71.5 percent revenue sharing contribution to labels backing the streaming service. The number will even be slightly higher -- about 73 percent -- outside of the United States to counterbalance the no royalty payment policy during the trial period. It's still not enough for some labels, according to Heath.

"I think the dynamic here is nothing to do with the royalty rates but there are elements of these deals that are just too difficult for smaller labels to do. It will literally put people out of business.

Smaller labels would be completely screwed. Apple just has to move on this."
Apple Music was officially unveiled last week during WWDC as a three-tiered service with basic music streaming, a live global radio station, and a social media platform that allows fans to follow favorite artists. The long-awaited service will officially launch on June 30 with a three-month trial period that will allow everyone to try it out for the summer. Afterwards, Apple Music will cost $9.99 per month for users who want to stick around.