iOS 9 to Gain New 'Proactive' Lifestyle Management Feature With Augmented Reality Maps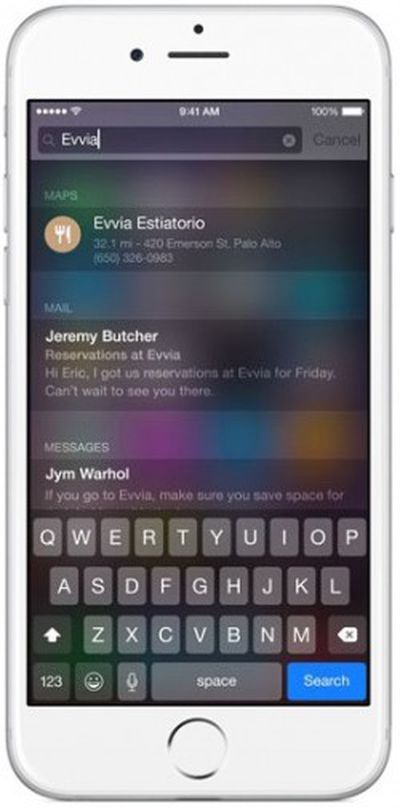 Apple's Siri and search features may expand significantly in iOS 9, letting Apple better compete with Google's feature rich voice-based search component, Google Now. As detailed in a lengthy report from 9to5Mac, Apple is said to be working on an iOS initiative called "Proactive," integrating features like Siri, Maps, Contacts, Calendar, Passbook, and third-party apps into an expanded Spotlight search.
Proactive will reportedly function as a search feature that's built deeply into iOS, replacing the existing Spotlight search menu (shown to the right). It may be accessed either from the top of the screen home screen as Spotlight is, or from the left of the home screen. Taking advantage of several Apple acquisitions like Spotsetter and Cue, Proactive is positioned as a lifestyle management tool.
Proactive is said to include a dedicated search bar much like Spotlight, so the design will be instantly familiar to iOS users, and it will continue to allow searches for email content, apps, music, and more. Below the search bar, a new user interface will display unique content from apps, Contacts, and Maps, providing easily accessible information to help iOS users navigate through their daily activities.

For example, if a user has a flight listed in her Calendar application and a boarding pass stored in Passbook, a bubble within the new Proactive screen will appear around flight time to provide quick access to the boarding pass. If a user has a calendar appointment coming up, a map view could appear with an estimated arrival time, directions, and a time to leave indicator based on traffic. Proactive will also be able to trigger push notifications to help the user avoid missing calendar events. Even with these new notifications, however, the existing Notification Center apparently isn't likely to see major changes.
Proactive is able to integrate with third-party apps as well, and it will learn which apps to display based on usage habits. Someone who checks their email right after waking up might have the email app displayed on the screen for quick access, while someone who makes a phone call at a regular time might see the Phone app pop up. Around dinner time, the feature may display restaurant suggestions and ratings for nearby eateries.
Maps will be an important part of Proactive, helping people navigate through their days with quick access to routes and information on the places they need to be. Maps is said to be gaining transit routing features in iOS 9, and it may also be updated with a revamped in-house Points of Interest system that includes an augmented reality view for local listings and a feature called "Browse Around Me."
With the augmented reality feature, which may or may not be ready for iOS 9, a user will potentially be able to hold up an iPhone, point it at a location on the street, and see information about the location. Pointed at a restaurant, Maps might display a menu. Pointed at a street, Maps would show the businesses located there with a virtual outline of each store. "Browse Around Me," meanwhile, is a simpler feature that may show all local points of interest on an overhead map.
Apple's upcoming Proactive feature will integrate with third-party apps, and in iOS 9, developers may be able to access a limited Siri API called "Breadcrumbs." This feature will let Proactive and Siri index apps, but full Siri access will not be permitted due to privacy concerns.
Today's report warns that the above mentioned features might not make it into iOS 9, or that the features listed above could be introduced as scaled-down enhancements that will improve over time.