Apple Acquires Social Recommendation Service Spotsetter
Apple has acquired Spotsetter, a social search engine designed to offer personalized recommendations on places to visit, reports TechCrunch. The Spotsetter app, which has now been removed from the App Store, offered personal recommendations for "great venues to eat, play, drink, and shop" via existing social networks.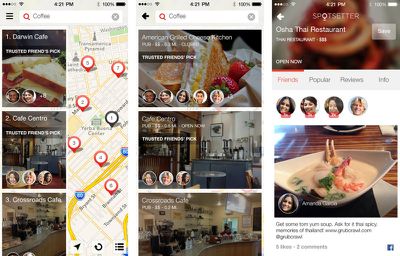 The app integrated with social networks like Facebook to aggregate data on locations recommended by friends, and it included results personalized for an individual's "taste and trust."
Using the app, you could look up any place, category or keyword, then be presented with personalized results, as well as see what your friends had said about the places around you. The app would also highlight which of your friends were experts in a given area, like coffee or shopping or sushi, for example -- and you could tag your friends as experts in order to influence the recommendations. In addition, you could use Spotsetter to discover new places, by browsing the map to see where your friends have been and what they've shared.

The end result was a social search engine built on top of a mapping interface.
Spotsetter announced plans to shut down its app six days ago, but did not give a reason for the removal. Its co-founders, Stephen Tse and Johnny Lee are now listed as Apple employees on LinkedIn, however.
With fondest emotions, I'm announcing that we are closing down Spotsetter app. We still have big dreams for personalized search for places and look forward to seeing great progress in this area. Thank you everyone for your support over the past years!
According to TechCrunch, Apple may be planning to use Spotsetter's technology, which layered social data on a maps interface, to bolster its Maps app with location recommendations. The deal, for an unspecified amount, was said to focus mainly on the technology and the talent of Spotsetter's founders.