Apple Acquires Personal Assistant App Cue
Apple has acquired Cue, a personal assistant app that was designed to aggregate information from email, contacts, and calendars into a daily snapshot, reports AppleInsider. MacRumors heard similar rumors about the potential acquisition several weeks ago, but we were unable to verify the claim. The deal has reportedly netted Cue (formerly known as Greplin) $40 to $60 million dollars.
In response to queries about the reports, Apple seemingly confirmed the acquisition to CNET and TechCrunch with its standard statement: "Apple buys smaller technology companies from time to time, and we generally do not discuss our purpose or plans."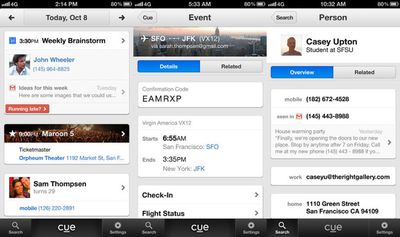 Cue turns your email, contacts and calendar into an intelligent snapshot of your day. All you need to create a Cue account is an email address. Then you can begin linking your Gmail, Yahoo Mail, Google Calendar, Facebook and all the other accounts that you depend on every day. Cue pulls these accounts together and uses sophisticated algorithms to create a personalized overview of the events and activities of your day.
Earlier this week, Cue unexpectedly shut down, posting a short note on its website letting users know that the Cue service is no longer available. TechCrunch speculated the shut down was likely the result of a sale due to the amount of funding Cue had raised. The app has since been pulled from the App Store.
Cue's aggregation functionality could potentially be built into a number of Apple products, including Siri. Apple's iOS 7 Notification Center already offers a similar daily overview, pulling events and information from the Calendar, Weather, Clock, and Maps apps. The information is dynamic, shifting based on new events and location.
Apple has made a number of other acquisitions over the course of 2013, including Matcha.tv, AlgoTrim, Embark, HopStop, Locationary, and Passif Semiconductor.