June Delivery Date for Backordered 15-Inch Retina Macbook Pro Sparks Refresh Speculation
With the Worldwide Developers Conference coming up in early June, there's been some question about whether we might see a new 15-inch Retina MacBook Pro at the event. Shipping estimates for the high-end 15-inch Retina MacBook Pro have recently increased to two to three weeks, perhaps suggesting Apple is tapering down production on the existing model.
Supply shortages can sometimes signal an imminent update, but there's uncertainty when it comes to a potential 15-inch Retina MacBook Pro refresh due to a distinct lack of Broadwell chips appropriate for the machine. For several months, we've had no updates on the release date of Broadwell chips that would be used in the 15-inch Retina MacBook Pro, making it difficult to pin down an upgrade timeline.
Along with slipping shipping estimates, however, we have another potential piece of evidence pointing towards the possibility of a June refresh -- a MacRumors reader who ordered a 15-inch Retina MacBook Pro has received a delayed delivery date ranging from June 9 to June 15. June 9 is one day after the kick off of the Worldwide Developers Conference and the day after the event keynote where any new product would be introduced.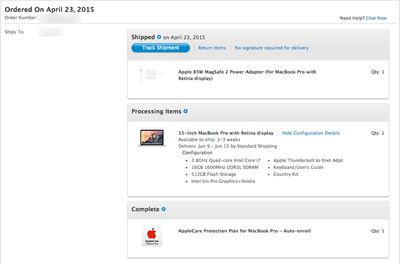 The Retina MacBook Pro in question is a custom configured 15-inch model with a 2.8Ghz processor and 512GB of storage, originally ordered on April 23. At the time, it had a two to three week delivery estimate, suggesting it should have arrived in May, but Apple's pushed it back to seven weeks.
A single customer's order set to arrive on June 9 just after the WWDC keynote is curious and may suggest Apple's waiting until a refresh to ship his order, but there's also a chance that it's a mere coincidence. It's entirely possible we won't see updated 15-inch Retina MacBook Pro models for several more months.
We last heard Broadwell chips for the 15-inch Retina MacBook Pro were coming in July or August, making a WWDC refresh unlikely, but a handful of desktop-class chips in the same family began shipping two weeks ago, suggesting Intel might be ahead of schedule.
If Intel is ready to ship the chips or if Apple has already quietly received shipments ahead of a wider release, there's a chance we'll see a Retina MacBook Pro update at WWDC. If the chips are not shipping out until July or August, a WWDC refresh or update announcement is not likely.
As we said in a deeper post covering potential chip upgrades for the Retina MacBook Pro and the iMac, Intel's Broadwell chip delays and Broadwell's convergence with Skylake chip release dates have made it difficult to divine accurate update timelines for these machines.
(Thanks, Joel!)