Supplies of 15-Inch Retina MacBook Pro Continue to Tighten Ahead of Broadwell Refresh
For the past several weeks, high-end 15-inch Retina MacBook Pro shipping times have been quietly slipping, first to one to two weeks and then to two to three weeks, sparking questions from MacRumors readers about whether a 15-inch Retina MacBook Pro update is imminent.
While it's true we're approaching the Worldwide Developers Conference in June, where Apple often announces new products, Broadwell chip availability remains an issue that makes it unclear whether we might get a refresh announcement at the event.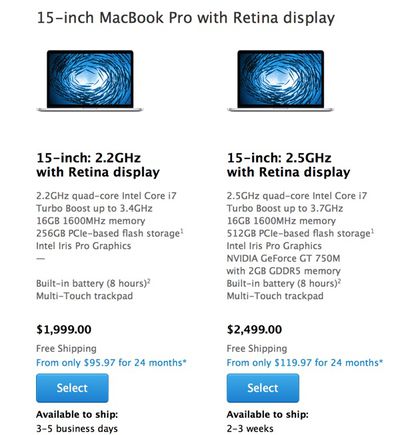 We have heard no word on the status of Broadwell chips appropriate for the 15-inch Retina MacBook Pro for several months. The last update on the chips came from a roadmap released in the summer of 2014, which suggested Broadwell chips appropriate for the notebook would be released in July or August of 2015.
In recent weeks, Intel has started shipping a small handful of desktop Broadwell chips, but chips that would be used in the 15-inch Retina MacBook Pro and the iMac are not yet shipping out.
The desktop-class Broadwell chips that are currently shipping were also given prospective July/August 2015 release timelines, so their arrival does potentially herald the imminent release of Broadwell chips that would succeed the existing Crystalwell chips in the 2014 Retina MacBook Pro. If these chips are going to ship out earlier than the prospective July/August timeline, it's possible Apple could make a Retina MacBook Pro update announcement at WWDC.
If the chips are not shipping until July or August of 2015, however, WWDC seems a bit premature for an announcement of a minor chip refresh that would not ship for several months, making a WWDC debut unlikely.
It's possible the shipping delays on the high-end 15-inch Retina MacBook Pro are due to resource reallocation rather than an imminent refresh. Apple's suppliers that produce the Retina MacBook Pro are also responsible for assembling the Apple Watch and the MacBook, so the delays that we're seeing may be a combination of workers being rerouted to work on more pressing products and low demand for the high-end Retina MacBook Pro.
It's worth noting that the high-end iMac is also seeing similar delays, with a shipping estimate of one to two weeks. The high-end iMac is in the same situation as the Retina MacBook Pro -- chips appropriate for an update are not yet available. Furthermore, chip roadmaps call into question whether there will be Broadwell chips available for Apple's non-Retina 27-inch iMacs at all.
Given the significant delays with Broadwell chips, their release timelines merge with the release timelines of Intel's next-generation Skylake chips and an investigation into Intel's release plans suggests that the company may jump directly to releasing Skylake chips in the third-quarter of 2015, bypassing Broadwell chips for certain machines all together.

As an example, the successor to the Core i5-4670 chip used in the low-end 27-inch iMac is the Core i5-4690 used in the low-end 27-inch Retina iMac, and the successor to that chip appears to be the Skylake Core i5-6600, suggesting a potential refresh for the non-Retina iMac might use that Skylake chip rather than the older Broadwell chip. Any upgrades to the 27-inch Retina iMac will also use Skylake chips rather than Broadwell chips.
Processor upgrades for the 21-inch iMac are a bit murkier as the chips used in those machines have no Skylake equivalents at this point in time, so it's tougher to speculate about potential chip successors Apple could use. It's also worth noting that the close proximity of Skylake and Broadwell chip releases could see Apple waiting for Skylake chips not only for the iMac, but also for the Retina MacBook Pro.
The major takeaway from the increased iMac and Retina MacBook Pro shipping estimates is that the Broadwell delays have thrown Apple's upgrade cycle into disarray, making it difficult to determine when we might see an update due to all the variables involved. If Apple chooses to go with a minor Broadwell update for the high-end 15-inch Retina MacBook Pro and those chips ship soon, we could very well see an announcement at WWDC.
If, however, those chips are not ready or if Apple should choose to forego Broadwell in favor of Skylake for a more substantial update, it's unlikely we'll see a WWDC refresh announcement for the 15-inch Retina MacBook Pro. iMac updates are even more difficult to pin down, but it seems unlikely a refresh is imminent.