Apple Watch Featured on Cover of Canadian Fashion Magazine 'Flare'
Apple Watch continues to be marketed around the world leading up to its highly-anticipated launch in April, this time making its Canadian debut in the upcoming May issue of fashion magazine Flare. The publication features actress Hailee Steinfeld wearing an Apple Watch Sport on two separate covers in both silver and space gray, accompanied by an article listing things you can do with your Apple Watch.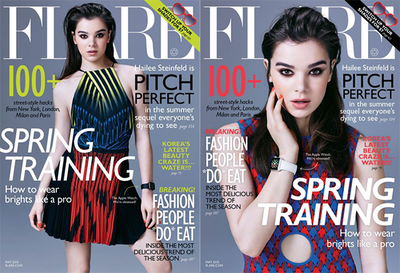 In addition to the fashion shoot, the magazine outlines more than a dozen ways the Apple Watch can be used beyond timekeeping, such as for ordering a coffee, boarding a flight, learning a new language, hailing a cab, managing finances, tracking health and fitness, identifying songs, controlling a vehicle, becoming a karaoke star, controlling an Apple TV, unlocking a hotel room and more.
Apple Watch has been featured in several fashion and fitness magazines worldwide in recent months, including Self, Vogue, Style, East Touch, YOHO, Fitness Magazine and Elle. Apple has heavily promoted its first wearable device in the fashion industry leading up to its launch, and has set up boutique shops at Galeries Lafayette in Paris, Isetan in Tokyo and Selfridges in London for the product.
Canada is one of nine countries where the Apple Watch is set to launch later this month, alongside the United States, Australia, China, France, Germany, Hong Kong, Japan and United Kingdom. The wrist-worn device will be available for pre-order and try-on appointments beginning April 10 ahead of an April 24 release date. Wider international availability is likely to occur in the near future.