Apple Watch Makes First Australian Magazine Appearance Inside 'Elle'
Elle is the first magazine to feature the Apple Watch in Australia with a fashion shoot starring the publication's in-house fashion editor Sara Smith. The multi-page style guide in the latest April issue offers women tips on how to make the Apple Watch work with different wardrobes depending on the time and place, such as during the weekend, at a cocktail party or in the workplace.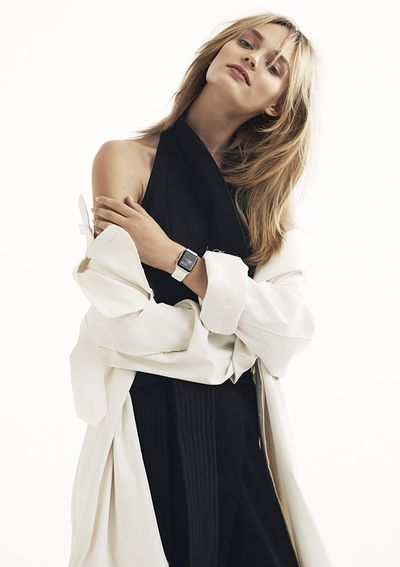 Apple continues to carefully curate the Apple Watch's image and exercise control over the way it's portrayed in magazines, positioning the wrist-worn device as a fashion item first and a technology device second. Apple wants the Apple Watch to be seen as trendy and sporty, perhaps in an attempt to avoid the device being viewed as overly technical and unfashionable as some people have opined about other wearables.
"For a cocktail party: Wear with a tuxedo suit and sexy heels (think Le Smoking Saint Laurent style with Alexander Wang black heels), or if you have the legs for it, a killer cocktail dress. Mix statement jewels with your watch. Try a fabulous cocktail ring and Cartier's Love Bracelet would look great sitting side by side with your Apple Watch. It will be the perfect conversation starter at a party."
Apple Watch has been featured in several fashion and fitness magazines worldwide in recent months, including Self, Vogue, Style, East Touch, YOHO and Fitness Magazine. The wrist-worn device will be available April 24, with pre-orders starting April 10 in the United States, Australia, Canada, China, France, Germany, Hong Kong, Japan and United Kingdom. Apple Watch starts at $349 for the Sport model, while the 18-karat gold edition will retail for upwards of $10,000.