Fitness Magazine Shares Behind-the-Scenes Details on New Apple Watch Cover
The Apple Watch has already been spotted within the pages of several fitness and fashion-oriented magazines during the month of March as Apple makes an advertising push ahead of the device's launch, and as of this week, it's also scored a spot on the cover of Fitness Magazine.
On the cover, model Kate Bock wears an Apple Watch Sport with a white fluoroelastomer band. The Apple Watch feature in the magazine is all images, and doesn't offer anything in the way of details as other Apple Watch spots have done. Fitness had initially shared some details about the shoot with MacRumors that were used in this post, but has since asked us to remove the information.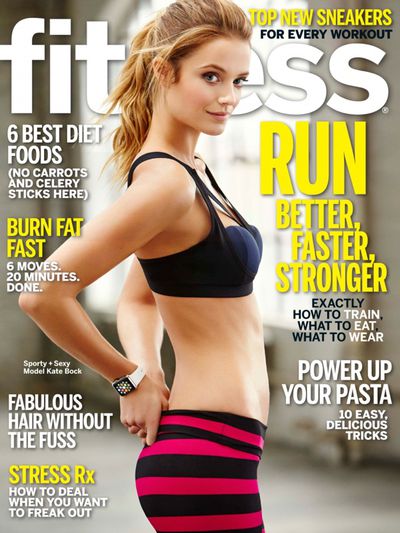 Fitness VP/Brand Development for Shape.com and Fitnessmagazine.com Betty Wong gave MacRumors the following statement on the magazine's collaboration with Apple:
"FITNESS, with our tech-savvy, goal-oriented female audience, is a great partner in helping showcase the Apple Watch. I hope to be able to get my hands on an Apple Watch Sport sample in the coming month and really put it to a sweat test for Fitnessmagazine.com to see how useful it is in helping our readers stay motivated to exercise, keep track of their physical activity, or connect with people and their to-do lists while out for a run.
With the Apple Watch positioned as Apple's first wearable accessory, it's no surprise to learn the company has been carefully curating its image and exercising control over the way it's portrayed in magazines. Apple wants people to see the Apple Watch as fashionable, sporty, and genuinely useful to the average person rather than as something geeky and technical that doesn't belong in the fashion world. Thus far, Apple's Apple Watch marketing efforts have been split between posing the Apple Watch as a fashion statement and as a fitness accessory.
On the fitness side, the Apple Watch has been featured in this month's issue of Fitness and it was on the cover of the March issue of Self magazine, on the wrist of Candice Swanepoel. Self did a full feature on the Apple Watch, highlighting its accelerometer, heart rate sensor, and more. Model Christy Turlington has also been promoting the fitness-oriented features of the Apple Watch, both on stage at Apple's March 9 event and on a personal blog on Apple.com. Turlington is using the Apple Watch as she prepares for the London Marathon in April.
On the fashion side, the Apple Watch has been featured in Vogue, Style, East Touch, and YOHO. Late last year, it was on the cover of Vogue China and it was shown off at an exclusive event at Parisian fashion boutique Colette. It will also be featured in a number of high-end exclusive popup shops around the world after it's released.
As the launch of the Apple Watch creeps closer, it's likely the device will continue to appear within an increasing number of magazines and newspapers as Apple attempts to market the device to a wide range of potential customers. The Apple Watch will be available beginning on April 24, but it will be available for pre-order and in-store try ons starting on April 10.
Update 5:21 PM PT: This post has been updated and revised at the request of Fitness.