Microsoft Launches Office 2016 for Mac Preview, Available for Free to Mac Users
Microsoft is today introducing a preview of the next iteration of its office software designed for Mac users, Office 2016. Office 2016 for Mac is the company's first major Mac release since Office 2011, and it brings new versions of Word, Excel, and PowerPoint with redesigned Retina-optimized interfaces, new features, and a heavy focus on collaboration and cloud integration.
Office 2016 for Mac, which is free to all Mac users running OS X Yosemite during the preview period, is the next step in Microsoft's plan to make its Office products available anywhere, anytime, on any device, and as such, it's been designed to work with Office 365 and OneDrive. Users will get the best experience when signed into Office 365 because that allows them to access all of their documents on all of their devices, but an Office 365 account is not required to use the software.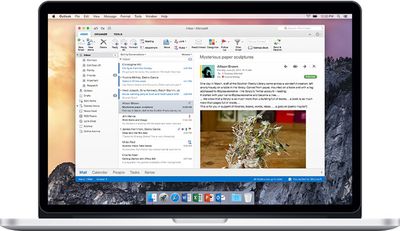 Office 2016 for Mac has adopted many elements previously found in both the Windows version of Office and in the mobile Office apps, released last year. There's a new Ribbon that reorganizes tools and formatting options, a task pane interface for greater graphics customization within all three apps (which can be manipulated and repositioned within each app), new themes and styles, and there's a Yosemite-style look that takes advantage of features like full-screen support.
Office 2016 for Mac is powered by the cloud so you can access your documents anytime, anywhere, and on any device. It's unmistakably Office – but thoughtfully designed to take advantage of the unique features of the Mac. The new apps offer full retina display support with thousands of retina-optimized graphics, full screen view for native immersive experiences, and even little Mac affordances like scroll bounce.
Microsoft believes that cloud connectivity is a key feature that people have come to expect from their software, so that's become a focal point for the company. With cloud support, Office 2016 for Mac lets users access a list of files created on any device, keep files up to date on all of their devices, and collaborate with other users. Each of Microsoft's new Office apps have received several new cloud-based features and other updates, as outlined below.
Word 2016 focuses heavily on collaboration. It's designed to improve the multi-author experience, with a consistent sharing interface at the top right of the app. Through this menu, users can invite coworkers to work on a document, send out links, and see who a document has been shared with.


Threaded comments have been added to the Mac for the first time and in Word's new Styles pane, users can make detailed edits on styles within the app as they can on Office for Windows.
Excel 2016 has deeper data analysis functionality with advanced statistical functions. There are also Slicers in PivotTables, a popular Windows feature that should make it easier for users to analyze large chunks of data to find patterns. With Office 2011, many users were frustrated that the Mac shortcut keys were not the same as the Office for Windows shortcut keys, so Microsoft has made all Windows shortcuts available on the Mac. Users already used to existing Mac shortcuts can continue to use them.


PowerPoint 2016 has a revamped presenter view, which is similar to the presenter view in the PowerPoint for iOS app. In the top left, the presenter sees exactly what the audience sees, including animations in real time. There's also a visual preview of the next slide, access to notes, a timer, and thumbnails for the entire slide deck.


As with the other two apps, there are deeper editing tools available through the right-side pane, which allows for functions like customized animations or shapes, with results that can be seen in real-time.
Along with Word, Excel, and PowerPoint, Microsoft's Office 2016 for Mac preview also includes Outlook for Mac, which was released in October, and Microsoft OneNote for Mac, released last March. Outlook for Mac has been limited to Office 365 users since its release, but as of today, it's available for anyone to use.
The Office 2016 for Mac preview has a built-in feedback mechanism, which Microsoft is hoping its customers will use to report bugs and share what they like and don't like about the software. Customer feedback will be an important tool that helps Microsoft decide on the next features to add to its software. According to Microsoft, the company is "data obsessed" and reads all of the feedback it receives.
Though it's been years since Microsoft last delivered a software update, the company plans to introduce bug fixes and feature updates quickly in the future, as such updates are possible now that the Microsoft Office experience is unified as a service across a range of devices.
Microsoft's Office 2016 for Mac preview is available today at no cost for all Mac users. It is officially supported on machines running OS X Yosemite. Microsoft has plans to launch the software in the summer following this beta testing period.