Microsoft Launches New Outlook for Mac, Next Office for Mac Suite Coming in Second Half of 2015
Microsoft today announced the immediate launch of a new Outlook for Mac for Office 365 users, bringing a new look and a number of improvements as leaked earlier this week.
The new Outlook for Mac includes:

- Better performance and reliability as a result of a new threading model and database improvements.
- A new modern user interface with improved scrolling and agility when switching between Ribbon tabs.
- Online archive support for searching Exchange (online or on-premises) archived mail.
- Master Category List support and enhancements delivering access to category lists (name and color) and sync between Mac, Windows and OWA clients.
- Office 365 push email support for real-time email delivery.
- Faster first-run and email download experience with improved Exchange Web Services syncing.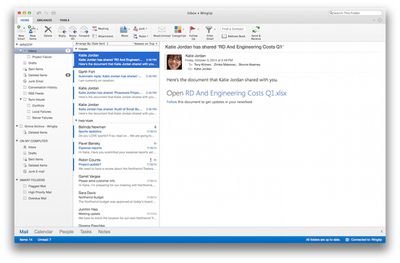 New Outlook for Mac
Office 365 subscribers can access the new Outlook for Mac through their account pages, while subscribers who already have Outlook for Mac 2011 suite installed on their machines should follow
these instructions
for moving to the new Outlook for Mac.
Microsoft also provided an update on the next full version of Office for Mac, noting that development on the suite had been pushed back from its usual schedule due to Microsoft's work on prioritizing mobile and cloud development. The latest roadmap for Office for Mac, which includes Word, Excel, PowerPoint, and OneNote includes a public beta launching in the first half of 2015 and a final release coming in the second half of the year. Both Office 365 and perpetual license versions will launch in the same timeframe. Some details on the next Office for Mac were also leaked earlier this week.