Wireless Charging Looks to Go Mainstream in 2015
As the largest consumer electronics show in the world, CES often gives us a hint of the technologies we can look forward to in the near future, based on the products that are shown off at the show. In 2013 and 2014, there was a heavy focus on wearables, and this year's emphasis on home automation suggests 2015 will be a big year for connected home products.
There's one other important emerging technology that we may see explode over the course of the next few years -- wireless charging. Several companies, including Energous and WiTricity, demoed upcoming wireless charging solutions, and the Alliance for Wireless Power had a booth showing off how wireless charging will work in the Home of the Future.
MacRumors had a chance to sit down with Alex Gruzen, the CEO of WiTricity, who walked us through the company's technology, its existing partnerships, and gave us details on when we might see the debut of the first products using WiTricity's technology, which uses the Rezence specification agreed upon by the Alliance for Wireless Power. WiTricity's wireless charging solutions, which we have covered multiple times in the past, works using magnetic resonance, which is able to transfer power over distances using the magnetic near-field.
In the past, wireless charging solutions like the
Powermat
(which uses a competing technology from the Power Matters Alliance) have required the electronic device being charged to rest directly on the power source, but WiTricity's wireless charging technology is unique because it does not require direct contact. The magnetic field used for charging is able to wrap around barriers, letting WiTricity charging pads be placed in unassuming locations like under desks, rugs, tables, and more.
In our time at the WiTricity booth, we saw charging pads that were placed under concrete, under desks, and more, hidden out of sight but still capable of delivering a full charge to a device (or multiple devices at once) equipped with WiTricity's technology. This type of hidden charging technology is what we can expect in the future, and Energous, previously mentioned, also debuted a similar "WattUp" technology that uses radio frequencies to charge devices, replacing a charging pad with a transmitter that can provide power up to 15 feet away.
The Energous technology is quite new, but WiTricity has been working on its wireless charging solution for a number of years and already has several partners in the works. Intel, for example, is using WiTricity's technology in its upcoming Skylake processors, and according to Gruzen, we're going to see the first Ultrabooks able to charge wirelessly before the end of 2015 as a result of this deal.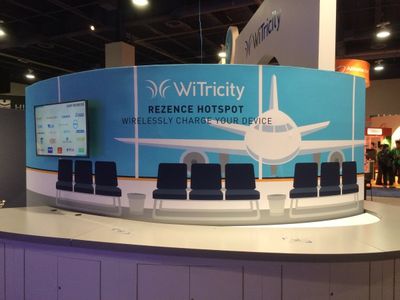 Apple itself uses Intel's processors for its range of Mac products and based on past history, it's likely that Apple will adopt Skylake processors, which means wireless charging for MacBooks is a possibility in the future. Apple has explored wireless charging based on past patents, and has even looked at a technology that's very similar to what WiTricity offers. Apple was rumored to be experimenting with wireless charging capabilities for the Apple Watch, but went with a MagSafe-style option instead, suggesting it isn't quite ready to adopt wireless charging technology at this point in time.
Apple is not a member of the Alliance for Wireless Power and does not work with WiTricity currently, making it unclear whether the company will develop a proprietary solution if it chooses to adopt wireless technology or use the standard that's been agreed upon by a huge number of tech companies including Intel, Panasonic, Acer, Broadcom, Microsoft, Dell, HP, Qualcomm, Fujitsu, Lenovo, LG, Samsung, and more.

WiTricity technology being used to charge a Smart Car


In addition to Intel, WiTricity has a range of high-profile partners and Gruzen expects those partnerships to result in a slew of products that use the company's technology in late 2015, like cell phones, electric vehicles, computers, and even accessories designed to work with Apple products. At CES, Gruzen demoed an iPhone 6 case the company's engineers had built to demonstrate how the technology could be used, which was similar in style to a Mophie charging case.

iPhone 6 case concept built by WiTricity engineers
WiTricity's technology is essentially able to be used in any product that needs charging, ranging from the large to the small. Toyota's next Prius, coming in 2016, will allow its users to charge the car using a wireless charging pad powered by WiTricity's technology, and WiTricity also showed off packaging created in conjunction with Gillette. Razors were packaged with a pulsing blue LED charged on the shelf with a hidden charging pad, and were designed to draw the consumer's eye towards the product.
Gruzen showed MacRumors the chips that WiTricity has developed to enable wireless charging in a range of devices, which were paper thin and in some cases, tiny enough to be incorporated even into small wearable devices. In the very near future, likely before we see the end of 2015, wireless charging is going to make its debut in a big way.
In several years from now, it's quite possible that charging our electronic devices through cables and cords will be a thing of the past, replaced with technology that allows us to hide away charging pads or eliminate them all together. It isn't clear what stance Apple will take on wireless charging, but its inevitable adoption in the technology space suggests Apple won't be able to ignore it for long.