Apple's Interest in WiTricity Wireless Charging
Last week, the Wall Street Journal reported in passing that Apple was experimenting with "a new way of charging" the 2012 iPhone. Like our readers, our thoughts instantly went to some sort of wireless charging mechanism.
Of course, wireless charging isn't a new technology though the current implementations of it have been somewhat limited. The original Palm Pre launched with an induction charger which allows users to charge their device when it is laid on a special charging mat. The disadvantages of such inductive chargers is the need for near physical contact in order for the power to be transferred as well as heat/power limitations.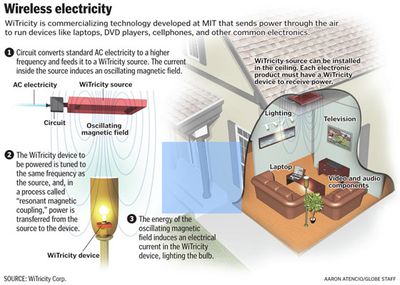 Click for Larger
A 2007 startup company called WiTricity, however, has been working on some significant advances in wireless electricity that has gotten the attention of much of the industry including Apple. WiTricity is based on the research from MIT's labs where scientists showed a new method for transferring larger amounts of power wirelessly over more practical distances (up to a couple of meters) than traditional induction.
The magnetic fields of two properly designed devices with closely matched resonant frequencies can couple into a single continuous magnetic field. Prof. Soljačić's team showed how to use this phenomenon to enable the transfer of power from one device to the other at high efficiency and over a distance range that is useful for real-world applications.
WiTricity has already received a significant amount of industry attention. The CEO of WiTricity demoed the technology at TED in 2009. Intel has been experimenting with the technology in their labs. Toyota has even collaborated with and invested in the company to develop automotive wireless charging systems.
The link to Apple comes by way of a international patent application from Apple called "Wireless power utilization in a local computing environment." The application was first published in May of this year and specifically details the same resonance technology and refers to the original paper published by the MIT researchers.
Apple describes a scenario where your iMac could be the source of this resonance power to provide a virtual charging area in front of your computer. Keyboards, mice and even mobile electronic devices like the iPhone or iPad could be charged simply be being in a 1 meter proximity to your computer. In typical Apple fashion, they describe that "by doing away with clumsy and annoying cables and eliminating the need to replace batteries, an easy to use and efficient local computing environment can be provided to the user."
The technology is said to be
safe
, relying on magnetic fields. WiTricity CEO is seen above presenting the technology at the 2009 TED and even shows it wirelessly powering a modified Apple iPhone.
Of course, Apple patent applications are only occasionally predictive of the company's plans, but in light of rumors of Apple experimenting with "a new way of charging", we thought this particular technology (which is already on Apple's radar) was interesting enough to highlight.