CES 2014: WiTricity Announces New Wireless Charging System Design for iPhone 5/5s
Wireless power firm WiTricity today announced the release of a reference design for its new wireless charging system aimed at the iPhone 5 and iPhone 5s. Moving beyond existing induction power transfer technologies such as Powermat that require direct contact with a charging pad, WiTricity's system supports power transfer over short distances using magnetic resonance, allowing charging pads to be kept out of sight such as mounted on the bottom surface of a desk.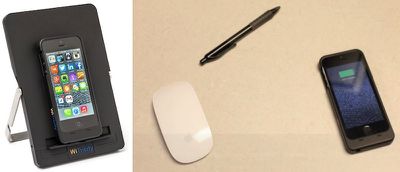 The WiTricity charging system for the iPhone 5/5s includes a wireless charging hub and a charging sleeve that fits an iPhone 5 or 5s. Similar to other protective covers, the WiTricity sleeve quickly slides onto an iPhone 5/5s and is powered when in proximity to the WiTricity charging hub. Capable of charging two phones concurrently, the charging hub can be placed on top of a table as an upright or flat charging pad, or mounted underneath a table or desk for charging through the surface. By mounting the charging pad under a surface, smartphone users are freed from the tangle of charging cords and cluttered desktops.
We first explored Apple's connection to WiTricity in
July 2011
after it was reported that Apple was working on a "new way of charging" the iPhone, and while that way turned out to simply be the Lightning connector introduced in the iPhone 5, Apple does clearly have an interest in wireless charging and WiTricity's technology in particular.
Patent applications from Apple have outlined how the company could use something in line with WiTricity's technology to allow a computer such as an iMac to serve as a wireless charging hub, with accessories and other devices such as keyboard, mice, and iOS devices able to be charged simply by being in close proximity to the iMac. Shortly after the publication of a key Apple patent application on the concept, WiTricity even demoed how such a system would work.
WiTricity's system announced today is a reference design not meant for direct sale to consumers, but it will allow the company to partner with a variety of other firms such as device manufacturers, accessory companies, and furniture makers to explore implementation of the technology.