Belkin and Elgato today used CES as a platform to expand their home automation lineup of products. Belkin is showing off five new WeMo products at CES, while Elgato is presenting two products from its previously announced line of "Eve" connected home sensors.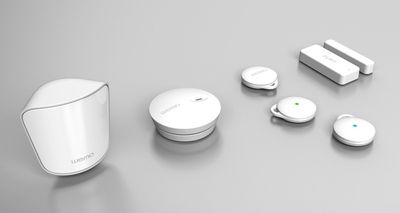 Belkin today announced an expansion to its WeMo line with the new WeMo Door and Window Sensor, the Keychain sensor, and an Alarm sensor to notify users when an existing home alarm goes off. It also introduced an improved motion detector with a new infrared option to detect heat signatures for even more precise motion detection. All four sensors will debut in the second half of 2015 at yet-to-be-determined prices.
Belkin also is working on a Water sensor with "Echo Technology" that will monitor household water usage. The new WeMo Water sensor will attach to the home's plumbing system and analyze pressure changes caused by faucets and the flushing of toilets. The sensor can calculate consumption duration and even detect damaging water leaks. The WeMo Water is still in the field trial stage with no set availability date at this time.


Elgato is also at CES, presenting its previously announced Eve Energy and Eve Door & Window sensors along with the Eve app. The HomeKit-compliant products allow you monitor the energy usage and control connected appliances with the tap of the screen. The Eve Energy and Eve Door & Window sensors will debut in Q1 2015, and the company is also working on sensors for air quality, temperature, humidity, and water consumption.