Intel Demonstrates Cableless Computing Made Possible by Future Skylake Platform
At Computex in Taiwan this week, Intel demonstrated a variety of wireless accessories that will be enabled by the company's future Skylake processor platform, reports CNET. Reference designs for the Broadwell successor will include the possibility of eliminating all of the cables that currently connect to a personal computer, replacing both data and power cables with wireless options.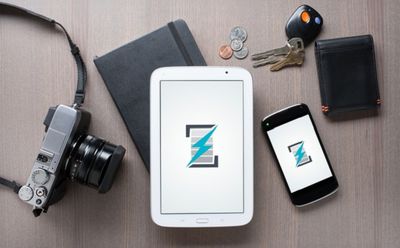 Wireless Charging concept from Rezence
The demonstration by Kirk Skaugen, Intel's senior vice president and general manager of the PC Client Group, showcased a wireless display, as well as a computer with wireless docking and charging capabilities. Intel uses technology from
A4WP's Rezence
, which transfers power wirelessly using the principles of magnetic resonance, for its wireless charging solution.
The system can be installed under a table surface, with magnetic resonance capable of charging through 2 inches of wood. It can also charge any number of devices at the same time, unlike inductive charging technologies.

Skaugen demonstrated a table that charged a laptop, phone, headset and tablet all at once.
For docking and display purposes, Intel relies on Wi-Gig to govern the wireless data transfer. First outlined in 2010, Wi-Gig is an established wireless standard that uses unlicensed 60 GHz spectrum to provide data transfer rates up to 7 Gbps.
The technology is still in the early stages, with Intel's Skylake platform expected to debut in late 2015. Products natively supporting these wireless protocols will be available publicly sometime in 2016. Apple is not currently listed as a member of the extensive A4WP consortium, but the company is undoubtedly pursuing its own potential solutions and its use of Intel's chips in Macs means that it will be able to take advantage of the technologies packaged into the future Skylake platform.