Financial Times Names Tim Cook 'Person of the Year'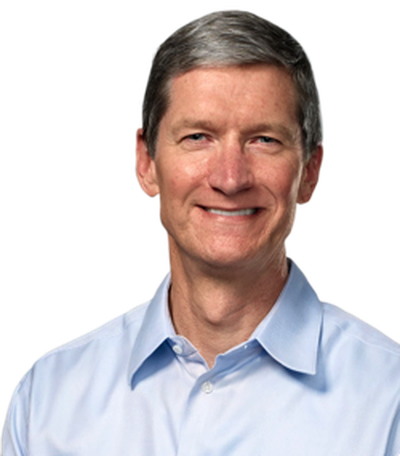 After being nominated for TIME's Person of the Year award, and subsequently losing out to the "Ebola Fighters", Apple CEO Tim Cook today was named Financial Times' Person of the Year.
In its announcement, Financial Times cited the huge burden of following in Steve Jobs' footsteps as one of Cook's biggest accomplishments this year, saying the CEO "held his nerve through attacks from activist investors and a loss of faith among some that Apple could succeed without its late founder."
The newspaper also pointed to Cook's infusion of new blood and ideas into the company as one of the driving forces behind Apple's big year. In particular, FT highlights the establishment of Cook's own values and priorities at the company, altering how Apple manages its financial side, and a newfound focus on relevant social issues, including his own sexuality, as some of the biggest moments.
It was a rare glimpse into his closely guarded personal life that also put at risk Apple's brand in less tolerant parts of the world. Mr Cook was driven to take a stand by his experiences growing up in Alabama, where he has talked of seeing discrimination that "literally would make me sick".
Financial Times also pointed to Cook's non-gender biased hiring methods, which included a handful of women for roles traditionally dominated by males. Also of note was Apple's acquisition of Beats, Cook's guidance of the record-breaking success of the iPhone 6 and iPhone 6 Plus, and the already ubiquitous discussion over next year's Apple Watch.
The publication does note critics who point out that Cook isn't as involved in product development as his predecessor, a fact many have cited as a reason why his on-stage persona isn't as lively and engaged as Jobs' when introducing new products and software for the company.
Financial Times looks to Cook's reactions to and solutions for these issues as a positive, however, pointing out that "Mr. Cook is aware of his shortcomings," and that his hiring of former Burberry CEO Angela Ahrendts and industrial designer Marc Newson will cleverly allow others to provide strengths to offset his weaknesses.
The full Person of the Year article, with a timeline of Apple's 2014 highs and lows, can be read at the Financial Times' official website.