Tim Cook Shows Off Apple Watch to Chinese Internet Official, Discusses Security Issues
China's minister of the Cyberspace Administration recently sat down with Tim Cook for a meeting that included discussion about the Apple Watch and Chinese security concerns, reports China.com.cn (via Bloomberg Businessweek). Lu's visit to the U.S. also included meetings with Facebook CEO Mark Zuckerberg and Amazon CEO Jeff Bezos.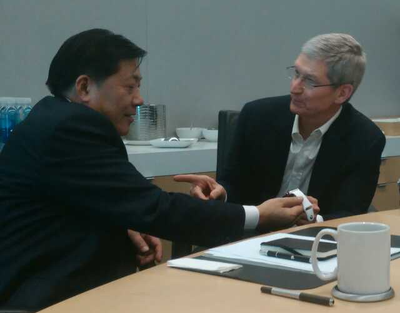 Cook was photographed showing off his wrist watch to Internet Information Officer Lu Wei, who is holding the device in his hand. Though the device is not identified in the source photo, it certainly appears to be the Apple Watch with white Sport Band frequently worn by Cook, and a translation of the original report quotes Cook as telling Lu he is the first outsider to see the watch.
The comment is not strictly true as executives have shown the watch to others on occasion since its unveiling and it has been featured in Vogue China and at Parisian fashion boutique Colette, but Lu may be one of the first government officials to handle the device.
Apple may face some regulatory hurdles with Apple Watch in China, as Lu reportedly reiterated to Cook that China is willing to open its markets to new products and technology, but the devices must face scrutiny before they are released. Each device must pass an official network security assessment that ensures national security is not being compromised, and the user's information is being accessed properly.
Apple may be willing to subject its watch to Chinese government oversight to a certain degree, as China already is a hotbed for smartwatches with more than half of existing devices coming from Chinese companies. Most of these smartwatches are low quality, off-brand products available in the largely unregulated Chinese marketplace.