Apple Retail Under Angela Ahrendts: Focus on Mobile Payments, Customer Experience, and China
Angela Ahrendts officially joined Apple just under three weeks ago, but the new retail chief already has a solid plan in mind for improving both the online and retail Apple Store experience for customers. In a detailed report on Ahrendts, 9to5Mac suggests the retail leader will focus on three separate areas in her efforts to revamp Apple retail: China, mobile payments, and a redesign of the "end-to-end Apple Store sales experience."
Growth in China is highly important to Ahrendts as it represents a major market where Apple hasn't managed to gain a strong foothold. As of February, Apple only had seven percent of total smartphone market share in the country, but the company has worked to secure deals with all of China's major carriers over the course of 2013, leaving it ripe for expansion. Ahrendts has plans to bolster Apple's retail presence in the country, reaching 30 stores by 2016, up from the current 10 stores.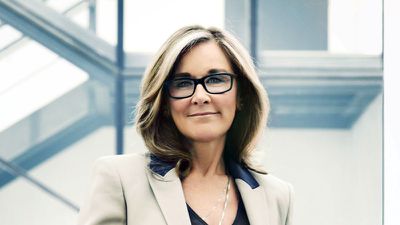 Along with expanding Apple's footprint in China, Ahrendts is also said to be aiming for an overhaul of the end-to-end Apple Store sales experience, reimagining product discovery, customer interactions with employees, and mobile payment options, another tenet of Ahrendts' three point plan. Over-the-phone service, Personal Setup, and the company's trade-in programs may also see improvements under Ahrendts.
Ahrendts and new online stores VP Kupbens are seeking to improve mobile payments in Apple's retail stores and mobile apps for both the online and in-person purchases. Ahrendts is said to be eyeing a major focus on blurring the lines between Apple's online and physical stores in order to improve the overall experience for Apple customers.
As she settles into her role and begins enacting major changes to the retail and online sales experiences, Ahrendts has been visiting Apple stores close to Cupertino, in San Francisco and Palo Alto. Employees have described her as "honest," "warm and genuine" and "so Apple."
Ahrendts has also reportedly re-architectured Apple's in-house retail team to better suit her needs, with longtime Vice President of Retail Stores Steve Cano moving on to international sales. Wendy Beckman, head of retail in Europe, and Denny Tuza, head of retail in China, will gain new responsibilities, while Apple's VP of Apple Retail Real Estate Bob Bridger and the company's VP of Retail Operations Jim Bean will both retain their roles. Bob Kupbens, the new VP of Online Retail will handle Apple's online stores.
Back in October, when Ahrendts' hiring was first announced, Apple CEO Tim Cook said he was "thrilled" she was joining the company, emphasizing that she shared Apple's values, "focus on innovation," and the company's dedication to customer experience.
As CEO of Burberry, Ahrendts famously revamped the company's entire shopping experience, and it's likely that she will bring similar improvements to Apple customers at a time when the company is poised to launch several new major products, including the iPhone 6 and the iWatch.