Apple Watch Screen Resolutions: 312 x 390 for 42mm Version, 272 x 340 for 38mm Version
With the WatchKit SDK now in the hands of developers, some new information about Apple's wearable device is coming out, including its display resolution, which was not previously disclosed by Apple.
According to Apple's human interface guidelines, the two separate Apple Watch models have different screen resolutions. The smaller 38mm Apple Watch has a resolution of 272 x 340, while the larger 42mm Apple Watch has a resolution of 312 x 390. In the WatchKit documentation, Apple refers to the Apple Watch display as "Retina," and instructs developers to use 2x image assets.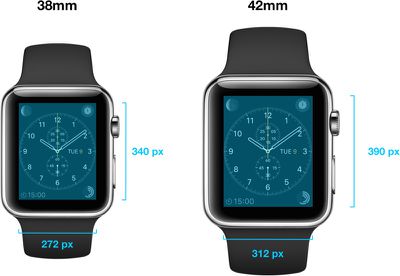 Apple directs developers to provide image assets for different screen sizes "as needed." Developers can use the same image resources as long as they "look good on both screen sizes," but if not, developers will need to provide separate image resources for both devices. Content displayed on Apple Watch "should be the same regardless of the device's screen size," and Apple says developers should "let items expand or contract naturally" to fill available space.
Icons on the Apple Watch will have variable sizes based on screen size and type. For example, the Notification Center icon should be 29 pixels for the 38mm Apple Watch, and 36 pixels for the 42mm Apple Watch. A home screen icon on the smaller device should be 172 pixels, while a home screen icon for the larger Apple Watch should be 196 pixels.


In addition to unveiling information on the device's resolution, Apple's WatchKit guidelines give some insight into how Apple views the device. Apple asks developers to be mindful of certain concepts when creating content for the Apple Watch, including its deep personalization and connection to people via heart rate and activity monitoring.
According to Apple, the Apple Watch aims to "blur the boundaries between physical object and software" through the Digital Crown navigation tool, the Taptic Engine for subtle alerts, and Force Touch, a new touch control system. Thoughtful design, says Apple, "should contribute to this experience of hardware and software feeling indistinguishable."
Apple suggests that all content created for the Apple Watch should be "lightweight," as the device is designed for simple interactions that are "accessible and dismissible quickly and easily, for both privacy and usability." Apps must "respect the context" in which the user accesses them, "briefly, frequently, and on a small display."
Apple's WatchKit development software became available earlier today, as part of the iOS 8.2 beta. The beta can be downloaded from Apple's developer site, and developers are able to immediately begin creating actionable notifications, Glances, and iPhone-driven apps for the Apple Watch. Apple says that developers will be able to create "fully native" apps "later next year."