Jimmy Iovine and Dr. Dre Discuss Their New USC Academy Focused on Technology and Liberal Arts
In a new profile of Beats co-founders and new Apple employees Dr. Dre and Jimmy Iovine, The Wall Street Journal interviews the duo about their newly launched undergraduate academy at the University of Southern California called the USC Jimmy Iovine and Andre Young Academy for Arts, Technology and Business of Innovation. The Beats co-founders, who bankrolled the academy with a $70 million gift last year that led to the first students being enrolled this past August, are being profiled as part of the WSJ. Magazine 2014 Innovator Awards.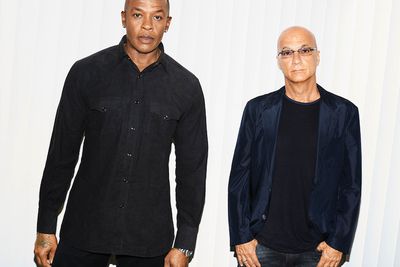 Photo courtesy of The Wall Street Journal


Echoing Steve Jobs' description of the philosophy of Apple, the school is aimed at preparing young people to be able to work in businesses that are at the intersection of technology and liberal arts.

"We wanted to build a school that we feel is what the entertainment industry needs right now," he says. "There's a new kid in town, and he's brought up on an iPad from one and a half years old. But the problem with some of the companies up north [in Silicon Valley] is that they really are culturally inept. I've been shocked at the different species in Northern and Southern California—we don't even speak the same language. The kid who's going to have an advantage in the entertainment industry today is the kid who speaks both languages: technology and liberal arts. That's what this school is about."
Erica Muhl, the school's first executive director, says that while other schools aim to mix business and technology, none of them add in the arts or culture. Iovine says the school's goal is to "find kids who can work at Beats or at Apple".
While Iovine and Dre unsurprisingly haven't shared what their exact roles at Apple will entail, The Wall Street Journal notes that one of the primary things on their minds is to marry people who create art with those who distribute it.
"I think what you're seeing more and more are companies that are designed to do multiple things," Iovine says. "If you look at the Beats model, there's software and hardware. Look at what Amazon is doing; look at what Google's trying to do. It's technology and content in one."
In recent months, Apple's music strategy has seen increased cooperation from artists in its distribution channels. In December, Beyoncè launched her newest album exclusively on iTunes with no advance promotion, while iTunes Radio has consistently featured specially curated radio stations from artists like Sam Smith. More recently, Beats Music highlighted on Twitter that its service will still stream Taylor Swift's music after she decided to pull her content from rival streaming service Spotify. Apple is expected to launch a revamped version of Beats Music in early 2015.
The full profile, which includes anecdotes on the creation of Beats Music and how Iovine had always wanted to work with Apple, as well as examples of what students are doing at the new school, can be found at The Wall Street Journal.