Initial iPad Air 2 Supplies May Be Limited, 27-Inch Retina Display iMac Launching by End of 2014
Just about a day before Apple's October 16 media event, KGI Securities analyst Ming-Chi Kuo has issued a new report, saying that he expects supplies of iPad Air 2s to be constrained. His report also suggests that the 27-inch Retina Display iMac will have shipments begin before the end of the year and reiterates that the new iPad minis won't be a significant upgrade.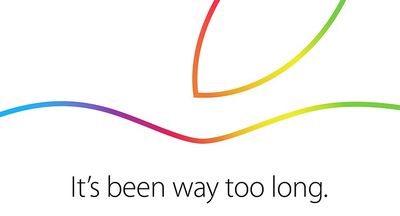 Of the new products, we think the market will be more interested in iPad Air 2. However, as the poor yield rate of anti-reflective coating cover lens has delayed mass production, we estimate 2014 shipments of iPad Air 2 of 7- 9mn units, lower than the 12mn units of the then-new iPad Air shipments in 2013. We thus expect iPad Air 2 to contribute less to the supply chain than iPad Air did last year. We also don't expect the event to boost supply chain shares much.
Kuo goes on to once again suggest that a significant update to the iPad mini isn't likely due to the iPad Air's larger "contribution to Apple's sales and earnings" and that iPad mini is seeing limited development resources because Apple is working on a brand-new 12.9-inch iPad.
The 27-inch Retina Display iMac is likely to begin shipments before the end of 2014, with the 21-inch Retina Display arriving sometime in the second half of 2015. The delay between the two models, Kuo suggests, is because of how difficult it is to develop two different sized high resolution panels at the same time.
Finally, Kuo corroborates reports that new MacBook models will not make an appearance at the October 16 event as Apple is waiting on Intel's Broadwell chips before significantly upgrading its laptop line. This includes the rumored 12-inch MacBook Air.
Apple is holding its press event this Thursday, October 16 at 10:00 AM PT on its Cupertino campus. Besides new iPads and iMacs, Apple is also expected to announce the public launch date for OS X Yosemite. MacRumors will provide live coverage of the event.