Apple Said to Upgrade iPad Air With Gold Option and Anti-Reflective Laminated Display
In a bit of a surprise prediction, Apple may use its upcoming September 9 event to introduce the iPad Air 2 along with the iPhone 6 and iWatch, claims KGI Securities analyst Ming-Chi Kuo in a research report released today. That plan would differ from Apple's announcement schedules in recent years that have seen the company unveil the iPhone in September and the iPad in October at a second press event.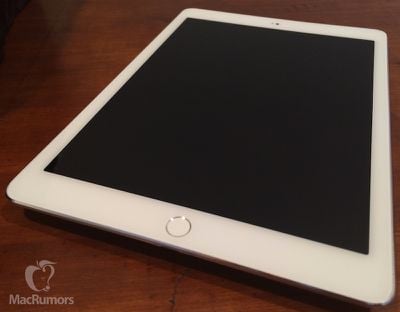 Physical mockup of the second-generation iPad Air
According to Kuo, Apple is preparing modest upgrades primarily for the iPad Air and not the iPad mini, because the larger iPad is more popular among consumers. While the iPad Air 2 is said to carry several improvements, including an
anti-reflective display
as previously rumored, the second-generation Retina iPad mini may receive only Touch ID support.
In light of limited development resources and the fact that iPad Air contributes more to Apple's sales and earnings than iPad mini, we think that only iPad Air 2 will see a major upgrade in specs this year, including anti-reflective coating for the cover lens, full lamination for the touch panel, a gold-colored metal casing, an A8 processor, Touch ID/ fingerprint recognition and an 8-megapixel rear camera. iPad mini may be upgraded with fingerprint recognition, if any.
While Kuo doesn't address whether the updated iPad Air will be thinner than the current model, a recent report from Digitimes claimed the device will indeed be thinner, and a laminated display could help Apple shave a small amount from the device's thickness.
Kuo claims that the anti-reflective display and full lamination will push back availability of the iPad Air 2 until October due to production issues with this new display. This delay may be fairly immaterial, however, as Kuo predicts iPad sales will continue to lag due to tablet market dynamics that see customers retaining their older iPad models instead of upgrading.
Kuo has been among the most accurate analysts regarding Apple's product plans, having been first to correctly peg a number of features and launches over the past several years. He has, however, had some misses and so it will be interesting to see if his iPad predictions pan out.