Apple Updates MacBook Airs with Faster Haswell Processors and $100 Price Drop [Updated]
As indicated last week and yesterday, Apple today launched updated MacBook Airs, which feature faster versions of Intel's Haswell processors at $100 less for each model.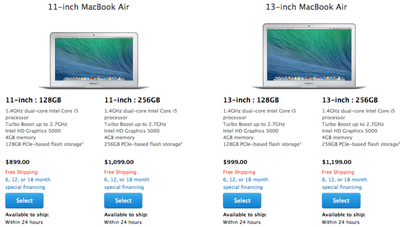 All standard models of the 11-inch and 13-inch MacBook Air now come with a faster 1.4 GHz dual-core Intel Core i5 processor along with the same 4GB of RAM. Both entry-level configurations of the 11-inch and 13-inch models now sell for $899 and $999 with 128GB of flash storage, while the higher-end 11-inch and 13-inch models now come in at $1099 and $1199 with 256GB of flash storage, respectively.
Build-to-order options include a 1.7 GHz dual-core Intel Core i7 processor with up to 8GB of RAM on both the 11-inch and 13-inch MacBook Airs.
Apple is also rumored to be working on a 12-inch MacBook with a new ultra-slim design and a high resolution Retina display for later this year.
The updated 11-inch and 13-inch MacBook Airs are available today through Apple's various retail locations and online store, with all standard configurations showing availability of "within 24 hours."
Update 1:28 AM: Apple's updated MacBook Airs are now available in its U.S. Online Store with each model now costing $100 less compared to the previous model.
Update 1:36 AM: Notably, the battery specs for both new models list slightly longer iTunes Movie playback times, with the 11-inch model jumping from 8 to 9 hours of playback and the 13-inch model jumping from 10 to 12 hours.
Update 6:08 AM: Apple has issued a press release announcing the minor update.
"With MacBook Air starting at $899, there's no reason to settle for anything less than a Mac," said Philip Schiller, Apple's senior vice president of Worldwide Marketing. "Macs have never been more popular, and today we've boosted the performance and lowered the price of MacBook Air so even more people can experience the perfect everyday notebook."
The press release also highlights the significant increase in battery life for movie playback through iTunes.
Update 9:00 AM: Refurbished MacBook Air computers have dropped to all time low prices, with an 11-inch 2012 model available starting at $599. 2013 models are available starting at $719.