Apple Launching 5.5-Inch iPhone 6 After 4.7-Inch Version to Avoid Competition Between Two Models?
Apple will launch the 5.5-inch iPhone 6 several months after the 4.7-inch version to avoid competition between the two models, according to a new report from DigiTimes citing supply chain sources.
The different timetables have been set as Apple does not want to repeat the mistake it made in 2013 when it launched the iPhone 5s and iPhone 5c simultaneously, said the sources.
Prior rumors have pointed out that production issues with the 5.5-inch iPhone 6 would cause Apple to delay its release a few months after 4.7-inch version, however this newest report claims that isn't the case for the launch delay. A report from Bloomberg last month suggested that Apple would be launching both versions of the iPhone 6 simultaneously, noting that the company had begun preparing the 4.7-inch model and 5.5-inch for manufacturing.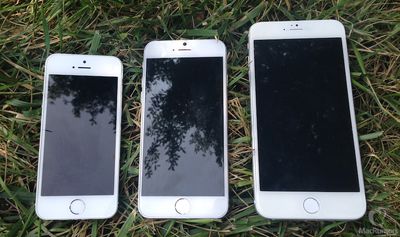 4.7 and 5.5-inch iPhone 6 mockups compared to iPhone 5s


Apple is expected to unveil the 4.7-inch iPhone 6 at a September event, although a report yesterday noted that the company is unsure as to whether it will show off the 5.5-inch version at the same time. The company is said to be preparing between 70 and 80 million iPhone 6 units to meet anticipated customer demand, as the larger screen could cause a massive spike in upgrades from both iPhone upgraders and those switching from Android.

In addition to a larger screen, the iPhone 6 is expected to feature a faster A8 processor, a thinner profile, an improved camera, and Apple's new iOS 8 mobile operating system.