Apple Preparing Between 70 and 80 Million 4.7 and 5.5-Inch iPhone 6 Units to Meet High Consumer Demand
Apple is asking its suppliers to manufacture a massive number of 4.7 and 5.5-inch iPhones in anticipation of high consumer demand, reports The Wall Street Journal. The company is seeking between 70 and 80 million units combined of the 4.7 and 5.5-inch iPhone 6 by December, its largest order to date and a major jump from last year, where it ordered between 50 and 60 million iPhone 5s and 5c models.
Its forecast for what is commonly called the iPhone 6 is significantly larger than the initial order last year of between 50 million and 60 million versions of the iPhone 5S and 5C--which had a display measuring 4-inches diagonally, these people said. Both of the coming models are expected to feature metal cases similar to the iPhone 5S and likely come in multiple colors, these people said.
With high iPhone 6 numbers, Apple is likely hoping to avoid the supply/demand crisis it saw last year with the iPhone 5s. After the iPhone 5s launched in September of 2013, Apple saw unexpectedly high demand for the flagship device, likely due to its new Touch ID fingerprint sensor. The phone was in short supply for much of 2013, and Tim Cook later admitted that Apple had expected a more balanced demand between the iPhone 5s and the iPhone 5c.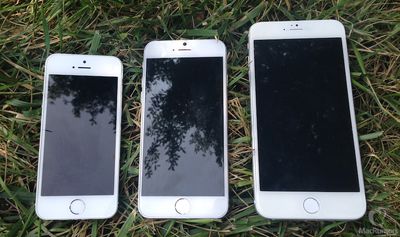 4.7 and 5.5-inch iPhone 6 mockups compared to iPhone 5s
Demand for the iPhone 6 will likely be extremely high, as it marks both a redesign and the introduction of a larger screen, a long-awaited feature that could cause a
massive spike in upgrades
from both iPhone upgraders and
those switching from Android
. According to analyst estimates, Apple could see a 15 to 20 percent jump in unit sales year over year.
Apple partners Foxconn and Pegatron are said to be hiring massive numbers of new employees to help assemble the iPhone 6, with main supplier Foxconn taking on an additional 100,000 employees and Pegatron adding 10,000.
The 4.7-inch iPhone 6 is expected to enter production in July, while production on the 5.5-inch version will begin in August or September. At this time, it remains unclear if the two iPhone 6 models will launch simultaneously, as rumors have suggested production issues may push back the launch of the 5.5-inch iPhone to late 2014 or early 2015.
In-cell display technology for the 5.5-inch iPhone 6 has been said to be causing significant problems and The Wall Street Journal suggests there may be additional complications if the larger device also uses a sapphire display. Apple is reportedly asking component makers to prepare enough parts for up to 120 million iPhone 6 models in order to compensate for high failure rates.