Apple Reportedly Delaying Launch of 5.5-Inch 'iPhone Air' Due to Battery Issues
According to Taiwan's Industrial and Commercial Times [Google Translate, via G for Games] Apple's larger 5.5-inch iPhone 6 has been delayed and will launch in 2015. The report notes that the company is struggling with finding a sufficient battery that measures 2 mm or less to fit in the device's "very thin" profile.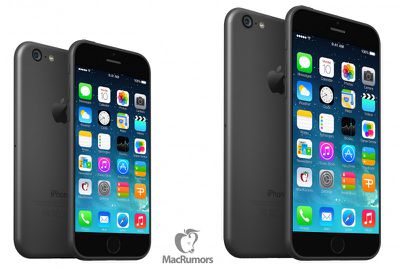 The report also notes that Apple suppliers are referring to the 5.5-inch iPhone 6 as the "iPhone Air", which has not been finalized as an official name for the device. If the claims are true, however, an iPhone Air would join Apple's MacBook Air and recently released iPad Air in carrying a similar name and delivering a product with a slim chassis.
Past reports have indicated that Apple's 4.7-inch iPhone 6 will launch first this fall, and have shared similar details about the 5.5-inch version being delayed due to production issues. A report from Reuters last month noted that Apple was having issues with in-cell production technology in the 5.5-inch version's display, with Japan Display, LG Display, and Sharp set to produce screens for the device.
In addition to a larger screen and thinner design, Apple's next-generation iPhone is expected to include a new A8 processor, Touch ID fingerprint sensor, and an upgraded camera featuring optical image stabilization. Apple is also said to be negotiating with carriers to increase the price of the iPhone 6 by $100.